Topeka — Joseph Yesufu didn't know it at the time, but an unexpected promotion to the Drake starting lineup just a few months ago would alter the point guard's career path.
Two days after officially joining the Kansas basketball program as a sophomore transfer, Yesufu said on Tuesday those seven starts he made for the Bulldogs this past February and March turned into the "biggest time" of his life.
Once Drake lost starting point guard Roman Penn to a season-ending injury, Yesufu recalled while speaking with media members at Washburn head coach Brett Ballard's basketball camp inside Lee Arena, Yesufu faced what he considered to be the biggest challenge of his college career to date.
"It was definitely a huge transition trying to step up and fill his shoes," said Yesufu, noting he wanted to get his teammates more involved and be a better point guard and leader once he left his role as Drake's sixth man.
"That's what I'm trying to do here," the new KU guard added. "Be the leader of this team. Lead this team to the championship."
Even before moving into a starting role, Yesufu, the 2021 Missouri Valley Conference Sixth Man of the Year, already had established himself as a key contributor on a Drake team that would finish 26-5. The 6-foot, 180-pound guard from Bolingbrook, Ill., averaged 12.8 points a game and shot 38.4% from 3-point range as a sophomore, when he came off the bench in the first 24 games.
In his seven starts, a run that included two conference tournament games and a pair of NCAA Tournament matchups, Yesufu averaged 22.7 points and 1.9 assists, as he went 21-for-49 from 3-point range (42.9%).
Yesufu plans on using that stretch as a jumping off point for what he's trying to accomplish with the Jayhawks during the 2021-22 season.
"Being in the tournament helped me adjust under pressure, just playing on the big stage with the fans watching, on TV, the lights on," Yesufu said. "It definitely prepped me for this position."
His showing during March Madness for 11th-seeded Drake gave Yesufu's name some appeal once he ultimately decided to enter the transfer portal shortly after the season concluded. Yesufu scored 21 points and dished three assists in Drake's First Four victory over Wichita State.
"I had the jitters," Yesufu admitted of his tournament debut. "After my first shot went in, that's when it felt like the jitters went away."
https://twitter.com/FinalFour/status/1375511754629738497
Then, in what would become his final game with the Bulldogs, Yesufu went for 26 points and shot 6-for-11 from beyond the 3-point arc in Drake's loss to USC.
When his name showed up in the transfer portal a few weeks later, Yesufu, who was mostly recruited by mid-major teams as a prep playing near Chicago, garnered interests from programs such as Wisconsin, USC, Arizona State, Nebraska and Minnesota.
His first conversation with KU came via a phone call from assistant coach Norm Roberts, who told Yesufu the Jayhawks really wanted him to join the team and they liked what he showed during the NCAA Tournament.
Roberts told Yesufu that head coach Bill Self would call him the next day, but Self called him that night while the coach still was on vacation with his family. Yesufu considered it "a special moment" to have Self take time to reach out to him ahead of schedule.
During his brief recruitment, Yesufu learned that Self, Roberts and the KU staff were intrigued by his speed, improved shot and basketball IQ.
"I have a bunch of similarities to previous guys, and he wants that back in his program," Yesufu related, adding that Self and KU's coaches would like to see him emulate former standout point guards Devon Dotson, Frank Mason III and Sherron Collins.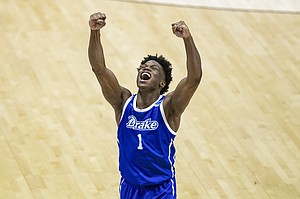 If all goes according to plan, Yesufu wants to give KU an element it lacked this past season by getting up and down the court. As Yesufu brought up, defending national champion Baylor plays fast and Self wants to get back to playing faster, too.
"That's what I feel like I can provide to the team," Yesufu said.
Heading into his third year playing college basketball, Yesufu also considers himself a great leader on and off the court. Self wants him to play point guard, Yesufu shared. What's more, his new head coach would like to see him work on a few aspects of his play in particular.
"Making the right decisions coming off screens, making the right reads," Yesufu said of some of the areas where he wants to improve this summer. "Obviously your shooting can always get better. And he just wants me to score, be a scorer, too."
From a development standpoint, Yesufu wants to transform into a more dynamic and effective guard at KU, which is why he chose the program in the first place once he decided to move on from Drake.
"Ultimately I'm trying to get to the NBA, and I'm trying to play on the biggest stage, a bigger platform," he said. "There's no better place than Kansas."
Yesufu appreciates that with the blue blood Jayhawks "all eyes are going to be on us," which wasn't the case when he played at Drake in the MVC.
As he makes the jump to the Big 12 and a program with national brand recognition, Yesufu expects the level of competition KU will face this season will demand that he stays ready.
"This is the real deal," he said. "This is the biggest stage."
With a larger spotlight than ever awaiting him now at KU, Yesufu intends to prove he belongs.
"I've got to work even harder," he said of what it will take. "These guys are league bound. And I also feel like I'm league bound, as well. But I'm going to have to show that every night."