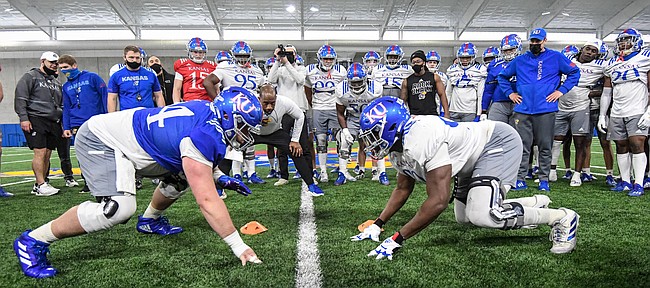 Although the previous Kansas football coaching staff implemented a different base defense than what new coordinator Brian Borland likes to run, the man now in charge of the Jayhawks' defensive schemes and calls doesn't foresee many issues accompanying a shift from a three-man front to a four-man front.
Even if the timing of Lance Leipold's hire and the arrival of his new assistants, who didn't come in until after the conclusion of spring practices, adds another wrinkle to that transition, Borland, Leipold's longtime defensive coordinator, pointed out directed a similar conversion before. When Borland followed Leipold from Division III Wisconsin-Whitewater to Buffalo, the Bulls had run a 3-3-5 defense before Borland installed his 4-3 scheme.
Plus, as Borland watched video of KU's defense — from the 2020 season as well as spring practices — he kept seeing instances in which the Jayhawks played "a lot" of four-down concepts.
On a number of occasions, Borland said, he spotted a defensive formation that he used at Buffalo.
"Our players are named something different and they can say they're a three-down front, but they're playing four-down defense a lot of times," Borland said he discovered while watching clips of KU's defense, formerly led by coordinator D.J. Eliot.
Even though KU's defensive players went through the entirety of spring football under Eliot's guidance, defensive line coach Kwahn Drake, who was retained by Leipold following the coaching transition, said KU's D-line happened to move toward playing more four-down schemes during their 15-practice spring schedule.
"So we actually prepared ourselves for this change not knowing it was coming," Drake said. "I'm extremely excited. I think the recruits are excited. I think that our current guys are excited. And I think we're going to put this thing in a great spot and we're going to continue to go forward with it."
While the move to a four-man front appeared it would become more challenging when projected D-line starters Da'Jon Terry and Marcus Harris both left the program after Leipold and the new staff arrived, the Jayhawks ended up gaining some players for the depleted position group via the transfer portal. Former Buffalo defensive linemen Eddie Wilson and Ronald McGee both decided to transfer to KU, as did Virginia Tech graduate transfer Zion DeBose, who had previously committed to UB.
They join a defensive line that includes returning players such as sophomore Jereme Robinson, senior Caleb Sampson, redshirt freshman Caleb Taylor, senior Malcolm Lee and super-senior Sam Burt.
In all likelihood, the Jayhawks in 2021 will still use some three-down fronts at times, too. Borland said at UB and in his past as a coordinator he has lined his players up in some three-down concepts.
"At the end of the day, it's not always all that much different," Borland said. "It's just what you call yourself."
Furthermore, KU's 58-year-old defensive coordinator said during his long coaching career he has learned that other aspects of playing defense affect outcomes more than formations.
"To me, what's really important, there's a whole bunch of defensive concepts and philosophies and things that you need to insist on and stress, way beyond the X's and O's part," Borland said. "If you don't do those other things right, then you don't have a chance, no matter what you're doing."
As KU's defensive players learn from Borland during their preparation for this coming season, he said there are five "plays" he will emphasize:
• play hard,
• play fast,
• play physical,
• play fundamentally sound,
• and play that way all the time.
"Those are the underlined things that we are really going to emphasize. And then the scheme will come along with it," Borland said. "It's way less about scheme, more about all those other things in my mind."