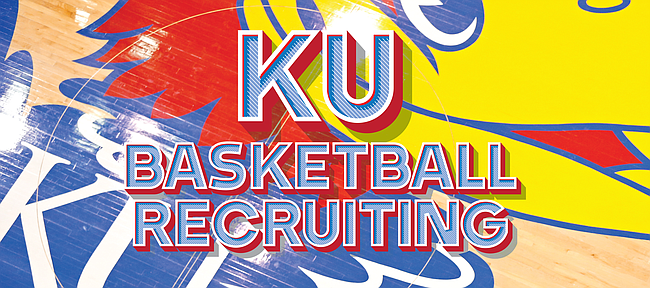 The Kansas men's basketball program made some progress in identifying its walk-ons for the future on Monday, when KU coach Bill Self announced the addition of Dillon Wilhite and Charlie McCarthy to the roster.
Wilhite's status as the newest addition to the roster had been known for about a month. The 6-foot-9, 240-pound forward from San Diego announced his plans to come to Kansas in May. In 2020-21, Wilhite averaged 18 points and 12 rebounds per game for Cathedral Catholic High, where he helped lead the Dons to a 15-2 record and earned all-league first-team honors for the Western League in the San Diego City Conference.
Wilhite is the grandson of longtime KU administrative assistant Joanie Stephens and he, like McCarthy, checked into his room at McCarthy Hall on Sunday with KU's four scholarship freshmen — KJ Adams, Zach Clemence, Kyle Cuffe Jr., and Bobby Pettiford.
Kansas coach Bill Self told the Journal-World that everyone on KU's roster had made it to town for the start of summer workouts with the exception of transfers Jalen Coleman-Lands and Remy Martin and 2020-21 starters Ochai Agbaji and Jalen Wilson.
Agbaji, Martin and Wilson all are continuing to explore their NBA draft status and have until July 7 to make a final decision about whether to stay in the draft or return to KU for the 2021-22 season.
McCarthy's addition to the roster, meanwhile, was not made public until Sunday, when a photo of his with his family, including prominent KU donor Kent McCarthy, surfaced on social media as part of the move-in celebration.
A 6-foot-2, 180-pound shooting guard from Palm Desert High, in Palm Desert, Calif., McCarthy averaged 11.5 points per game for his high school team as a junior in 2019-20.
He followed that up by improving his numbers across the board as a senior at Shadow Hills High in Indio, Calif., where he averaged 12 points, 8 rebounds, 5 assists and 1.5 steals per game during the 2020-21 season.
Both players are very familiar with the KU program, having grown up Jayhawk fans and attended several Bill Self basketball camps.
"We're happy to get both Charlie and Dillon," Self said in a re-lease Monday release that made the moves official. "Each had successful high school careers in California, but they are probably more familiar with Lawrence, Kansas, than anyone from out of state that we have recruited. … Charlie and Dillon will both be able to put their handprint on what we are trying to do in the men's basketball program and they'll both have a role in accomplishing that."
McCarthy and Wilhite join walk-ons Chris Teahan and Michael Jankovich, who also came to KU with deep ties to the program at the outset of their college careers.
Teahan will play the 2020-21 as a super senior and Jankovich will be a junior. While their experience figures to help McCarthy and Wilhite find their footing and get acclimated with being a part of the program, Self said he had no doubts that both newcomers were up for the challenge.
"I'm excited for both of them," he said. "They know it's going to be a lot of work. More importantly, what they are most excited about is being at the University of Kansas and continuing their family tradition."