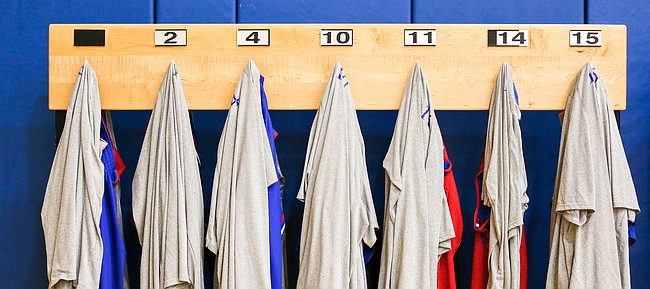 College basketball teams will be allowed to have a little more on-court interaction with staff members this summer thanks to a new waiver granted by the NCAA.
The rule that was passed by the Division I Council Coordination Committee allows two non-coaching members of any college basketball program to conduct instructional, on-court activities during the eight-week summer session that will start June 4.
According to a release announcing the approval of the waiver, "the committee supported the changes due to the increased need for (full-time assistant) coaches to be recruiting after a dead period that lasted more than a year and the likely larger number of new players on teams for 2021-22 because of the change in transfer rules."
The new rule, which figures to benefit Kansas and the nine new faces KU coach Bill Self added to the roster this offseason, will work in conjunction with the existing rule of assistant coaches being allowed to work with their players for up to eight hours per week — no more than two hours a day — on various skill-related instruction.
For the Kansas men's basketball program, this brings director of operations Fred Quartlebaum, director of student-athlete development Brennan Bechard and director of sports performance Ramsey Nijem into the spotlight for the summer months.
All three have significant value as basketball instructors beyond their current administrative duties.
Quartlebaum spent several years as an assistant coach at Navy, Notre Dame and St. John's, among other places, and also was a four-year letterwinner at Fordham during his playing days.
Bechard, a Lawrence native and former KU walk-on, played for Self from 2007-09. And Nijem worked regularly with NBA players during his five seasons with the Sacramento Kings.
All three have a deep understanding of the way Self and his coaching staff run their practices and program, and their engagement with the newcomers this summer should help that group quickly get up to speed.
Not that Self was worried about it before Thursday's waiver announcement. Self recently told the Journal-World he wasn't worried about KU's new-look roster building the kind of chemistry needed to be a contender during the 2021-22 season.
"I'm really not because we have the whole summer together," he said. "I think last year not having the summer and the way everything was moved back, I think it set back the quality of ball, especially for young kids entering the program. I don't think it'll be that way this year. I think the quality of ball will be better right off the bat just because we would have had June and July."
Most Jayhawks are expected to report to campus this weekend ahead of the start of summer workouts next week.
2020-21 starters Ochai Agbaji and Jalen Wilson, along with Arizona State transfer Remy Martin, remain locked into their pursuit of feedback on their NBA draft status. That trio has until July 7 to make a decision about staying in the draft or returning to Kansas.
In addition to Martin, KU's list of newcomers includes transfers Cam Martin (Missouri Southern State), Jalen Coleman-Lands (Iowa State) and Joseph Yesufu (Drake), as well as prep signees KJ Adams, Zach Clemence, Kyle Cuffe Jr., Bobby Pettiford and walk-on Dillon Wilhite.