Jamahl Horne's days of producing exclusively on special teams for the Kansas football program appear to be a thing of the past.
A high-speed kick returner for the Jayhawks each of the past two seasons, Horne showed the type of progress this spring that has KU receivers coach Emmett Jones convinced the 5-foot-10, 186-pound junior is ready to contribute for the offense, too.
"I thought Jamahl Horne flashed from a maturity standpoint. He took off. He seemed so confident," Jones said. "The last couple of years, at times you'd see him flash, but he didn't seem quite confident in himself. This spring he just walked around differently."
An under the radar recruit out of Miami, Fla., Horne redshirted at KU in 2018 before becoming a factor on kickoff returns in 2019, when he averaged 22.1 yards per return, with a long of 40. Horne followed that up this past fall by averaging 22.6 yards on 15 returns.
Horne long ago began turning heads at KU workouts and practices with his speed. What made his spring displays different this year, Jones related, was how Horne harnessed his specialty and used it to make him a more effective receiver.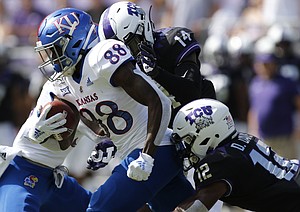 "He was the fastest guy on the field. He felt like no one could cover him, knew the scheme well and he just took off," Jones said of the transformation that helped Horne stand out during KU's recent offseason practices. "You saw that south Florida athletic ability take off this past spring. So I was impressed with him. You saw everything come together from what he learned being around me the last two years."
The 2021 season will mark Horne's fourth year in the program and third year working with Jones as his position coach. Jones thinks Horne is "on a totally different level" now, because his comfort and confidence have reached new heights.
In the past, when injuries slowed him down or forced him to miss time (Horne didn't appear in the last four games of the 2020 season), Jones could tell the reserve receiver and key returner would get down on himself. Jones said he worked on lifting Horne back up during those valleys and instilling belief in him.
Although Horne will enter this upcoming season with zero career receptions, what Jones recently witnessed during KU's closed practices makes it seem like he'll start racking up catches and receiving yards in the fall. Jones said Horne proved he can run past defensive backs.
"I don't think he was covered in one-on-ones," KU's receivers coach said. "Any time he was asked to push the route downfield, he automatically demands attention."
Now that Horne is a veteran, Jones said he's stronger, too, helping him become a solid perimeter blocker, as well. Not only that, but Jones thinks KU can run jet sweeps with Horne or throw it to him quickly on the outside and expect him to pick up more yardage.
By the conclusion of spring practices, Jones considered Horne one of his "top tier guys" and said the vastly improved wideout didn't drop many balls.
"He looked like he definitely belonged in the Big 12, like he could do some damage in the Big 12 if he just stays the course," Jones said.