When Jim Zebrowski first set foot on the University of Kansas campus in May, the football team's new quarterbacks coach put himself through a crash course fact-finding mission.
After all, walking into a different program after spring practices already had concluded meant Zebrowski didn't know much about the QBs he'll soon be in charge of preparing for the rigors of a Big 12 season.

As part of his initiation, Zebrowski fired up some KU football game clips from the 2020 season, when he was still working with head coach Lance Leipold and offensive coordinator Andy Kotelnicki at Buffalo.
"It's not so much to see X's and O's or schemes," Zebrowski said of his process. "It's just to see really sometimes a throwing motion, how a kid reacts. Because I don't know them. I'm trying to get to know them."
Still, the KU assistant said, in order to really understand the players, Zebrowski also made sure to talk to them — even if those back and forths had to be brief "coffee dates," as Kotelnicki called them — at the end of the spring semester.
"Hey, where are you from? Where did you go to high school?" a chuckling Zebrowski said of the types of questions he asked during those initial conversations.
Typically, he pointed out, the QBs coach would know far more about the players he's coaching — even true freshmen just getting to campus — because he would've learned so much during the recruiting process.
The icebreakers a few weeks ago allowed him to hear the stories KU's quarterbacks had to offer, while Zebrowski also wanted to demonstrate to the players that he actually cares about them as people, too.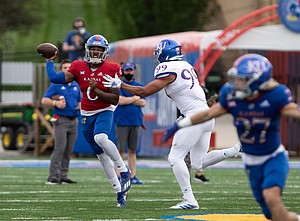 "They've been through so much," the latest KU QBs coach said of the numerous coaches the players have learned from already in recent years, "that you just hope you can build trust."
Another important component of Zebrowski's KU QB research involved sitting down to talk with returning staffer Travis Partridge. Back in a quality control role now, Partridge stepped in as the Jayhawks' interim QBs coach throughout the spring, when the search for the program's next head coach was ongoing.
Zebrowski found out from Partridge what similarities existed between the offense Kotelnicki ran at UB and the types of plays the Jayhawks used over the past year.
Plus, Zebrowski explained, conferring with Partridge allowed the new assistant to discover more about the QBs as players and people. The assistant coach said he heard rave reviews about the athletes — "unbelievable room, unbelievable young men," Partridge told him.
Zebrowski also liked what Partridge had to say about returning QBs Jalon Daniels and Miles Kendrick, both of whom started in 2020 and handled most of the reps during spring practices.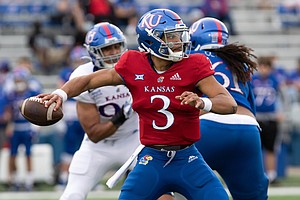 While Daniels, a sophomore, and Kendrick, a senior, possess contrasting talents, Zebrowski said Partridge's scouting report highlighted a similarity: "how coachable they are."
Zebrowski said he watched video clips that display "terrific throws" and "great plays" from both Daniels and Kendrick. And the assistant liked what he heard about how they push each other, and hope for the best for one another, amid their competition.
"They want success for the offense," Zebrowski said. "You can build off of that."
Having ascertained a fair amount of background on the QBs as a starting point for his new job, Zebrowski said in the next phase he doesn't want the past to shape his view of the players. Instead, he wants to enter the summer with an open mind about the competition.
"Can't wait to see it," Zebrowski said. "Can't wait to start coaching them, honest to goodness."
In the months ahead, he looks forward to viewing the talents of KU's QBs live and in person. Both Daniels, who started six games this past fall, and Kendrick, who started two, exited the spring as co-leaders in the race. But both figure to be challenged during preseason practices by incoming North Texas transfer Jason Bean.
While ability and performance will no doubt help one QB eventually separate himself, Zebrowski said the way a player thinks and adjusts can be just as important.
"It becomes so much more the mental approach. The ability to focus and refocus. The ability to be resilient," Zebrowski said of what he's looking for in an ideal QB.