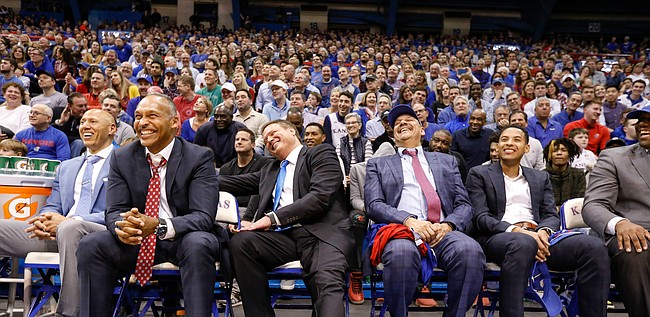 The end of one of the longest dead periods in college recruiting history arrived at 12:01 a.m. on Tuesday, lifting all recruiting restrictions for both prospects and coaches in all sports.
In other words, after more than 14 months of operating in a dead period — which was extended eight different times — it's back to the grind for coaches and recruits across the country.
With the pandemic shutting things down in March of 2020, coaches and the players they targeted were forced to stay home and do their recruiting via Zoom calls and text messages.
While the adjustment to the Zoom world brought about new opportunities — think virtual visits and face-to-face contact without having to be in the same room — it also created all kinds of new challenges.
The most notable, of course, was the fact that coaches could not actually watch the prospects play in person and the recruits themselves were not able to see campuses or facilities or look coaches in the eye when they sat and talked with them.
They made it work, of course. And the recruiting cycle rolled on. In fact, at Kansas, KU men's basketball coach Bill Self signed eight new scholarship players in the past seven months and landed an oral commitment from another in the Class of 2022.
The offers kept going out. The coaches kept working every angle they could think of. And the prospects kept creating and narrowing down lists and making their official announcements about where they were headed next.
All of it was a true testament to the professionalism and adaptability of both the coaches and the recruits.
But now that the dead period has expired, it's time for both parties to get back to their normal routine of traveling to homes and campuses, gyms and fields across the country.
Self told the Journal-World on Tuesday that he and his staff — full-time assistants Norm Roberts, Kurtis Townsend and Jeremy Case, who remains in the role on an interim basis for now — would head back out on the road the last two weeks of the month.
The NCAA's summer recruiting calendar provided some guidance for that plan. Coaches can — and certainly will — travel to watch prospects at AAU basketball events slated for June 18-20, June 25-27, July 8-11, July 16-18 and July 23-25.
Prospects also are allowed to visit KU's campus at any point in the next two months with the exception of three dead-period dates — July 6-7, July 12-15 and July 19-22.
The expiration of the dead period, which the NCAA ruled on in April, is not just for college basketball. Coaches in all sports are now free to get back to the ways of old, and many took advantage immediately. Early Tuesday morning, video surfaced of Florida State football coach Mike Norvell welcoming several recruits into the program's facilities the minute they were allowed to open the doors.
Many hoops prospects in the Class of 2022 already have announced their plans to visit KU this month.
Five-star forward, Mark Mitchell, of nearby Bishop Miege, will visit KU unofficially on June 16. He also is planning an official visit for KU's Late Night in the Phog event this fall.
Nick Smith, a 6-foot-5, 175-pound point guard from Sherwood, Ark., was the first to announce his plans to visit KU this month. Rivals.com's 39th-ranked player is slated to visit KU on June 20.
Point guard Jayden Epps, Rivals' 68th-ranked player, and power forward Zuby Ejiofor, of Garland, Texas, are also expected to visit KU later this month, with Ejiofor visiting on June 23rd and Epps coming from Suffolk, Va., June 28 through July 1.
That list will grow as several others continue to make their plans for the months and weeks ahead, and the KU coaching staff will continue to monitor all of it, near and far, as the number of scholarships available in the 2022 class remains unknown at this time.
As of now, KU has six scholarship seniors on its 2021-22 roster — Ochai Agbaji, Jalen Coleman-Lands, Mitch Lightfoot, Cam Martin, Remy Martin and David McCormack.
Lightfoot, as a KU super senior, is not taking up an official scholarship for the upcoming season. Super senior transfers Cam Martin, Remy Martin and Coleman-Lands are.
In addition, Agbaji and Remy Martin — along with sophomore-to-be Jalen Wilson — are still exploring their NBA options and have until July 7 to make the decision to pull their name out of the 2021 NBA draft pool and return to KU or stay in the draft.