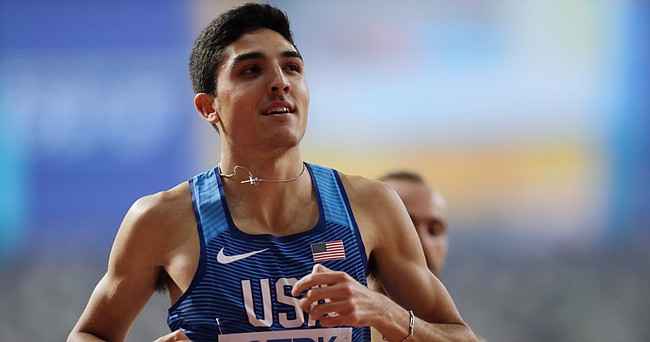 Former Kansas track standout Bryce Hoppel's charge toward Olympic glory will continue bright and early Sunday morning in the semifinals of the 800-meter run.
Hoppel, who dominated the event throughout his college career before turning pro, reached the semis by finishing third in his qualifying heat on Friday in 1:45.64.
That time was good enough to earn him an automatic spot in the semifinals.
Shortly after Friday's race, Hoppel hit Twitter to ask for some support.
"All right, who's waking up at 6:45 a.m. to watch the next one," he tweeted late Friday night.
Hoppel's goal now is to get through to the finals, where he would have a chance to run for a medal. The 800 final is set for 7:05 a.m. Wednesday morning.
For Hoppel, the journey to this point has been a wild ride. His challenges included holding on to finish in the third and final spot at the Olympic trials a few weeks ago and nursing an injury in the weeks leading up to Tokyo, hoping he would be recovered in time to be at his best this week.
In many ways, though, it started before that. In a recent feature put out by KU titled, "Chasing Glory," Hoppel recalled a Catholic School field day when he was in first grade, when he first fell in love with the thrill of racing.
"I remember that moment vividly because I always thought it was the coolest thing in the world, trying to be the best in my grade," he wrote. "And now, I get a crack at being the best in the world."
Clemons still hurdling
KU assistant coach Christina Clemons also will be competing in the semifinals of the 100-meter hurdles early Sunday morning.
Clemons reached the semis by finishing second in her heat on Friday in 12.91 seconds.
Repeating the feat on Sunday morning will put her in the finals later that day, where she'll have a shot to bring home a medal by finishing in the top three.
Emilianov finishes 30th in Olympic debut
KU discus thrower Alexandra Emilianov finished 30th in her signature event in her first ever trip to the Olympics.
In the qualifying rounds, the Moldova native delivered a top throw of 54.57 meters (179 feet).
She joins former Jayhawk Mason Finley in completing her run at this year's Olympics. Earlier this week, Finley finished 23rd in the men's discus with a top throw of 60.34 meters in Tokyo.
Fellow KU thrower Gleb Dudarev is slated to make his Tokyo debut in the hammer throw at 6:15 a.m. Wednesday.