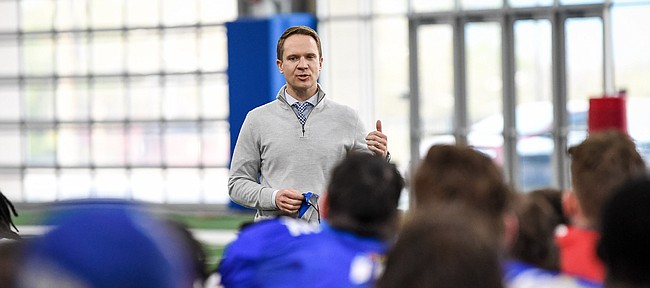 Twenty-nine days after the NCAA's new name, image and likeness rule went into effect, the University of Kansas launched a four-tiered policy on how to navigate the new era of college athletics.
Dubbed "Jayhawks Ascend," the program is designed do everything from provide entrepreneurial training for student athletes to teaching them about tax implications that may come from accepting sponsorship money associated with their name, image and likeness.
First-year KU Athletic Director Travis Goff said in a statement that the driving force behind the new initiative was for KU's athletic department to continue to do everything it can to put its student-athletes "in the best position to succeed."
"With the initialization of name, image and likeness and the notoriety that comes with being a student-athlete at KU, Jayhawks Ascend will elevate our student-athletes and allow them to flourish in this new day and age in college athletics," Goff said in a release. "Not only will this program assist in navigating the new NIL world, this all-encompassing educational program will help our nearly 500 student-athletes continue their pursuit of a degree while also preparing them for life after KU."
According to the release, Jayhawks Ascend will be based on four elements. They are:
• Personal brand management: Student-athletes will receive training on social media usage, one-on-one brand building, "brand identity" training, and other related topics.
• Name, image and likeness protection: The program will stress the various compliance requirements athletes must adhere to in order to remain eligible as a student-athlete. KU's release didn't provide details on specific compliance issues. However, when the NCAA approved name, image and likeness rules earlier this year, it noted that student-athletes would not be allowed to accept deals that could be considered an inducement to attend a certain school or that crosses the line of being a "substitute for pay-for-play."
• Resource engagement: KU will offer free legal services to student-athletes related to name, image and likeness matters, and also will provide entrepreneur certificates for student athletes who want to take a business-like approach to marketing themselves.
• Post KU preparedness: The program will offer more formal business training with a partnership through Meritrust. The program will include training on how to form a limited liability corporation, along with assistance in building marketing and networking skills.
In addition to Meritrust, KU will work with partners Opendorse, Athliance and INFLCR to educate and inform student-athletes in the areas of business and personal profile building, according to the release.
A handful of KU athletes — particularly men's basketball players — already have dabbled in a variety of NIL opportunities. But Kansas coach Bill Self believes Jayhawks Ascend will further prepare them to take advantage of the new rules.
"Our guys are in a great position to benefit off their name, image and likeness, and this program will put them at the forefront in this new day of college athletics," Self said. "Our athletic department has put countless hours and planning into this and (has) done a great job making this program unique to the unbelievable resources we have here at KU. I'm really looking forward to seeing our team utilize this resource to the fullest ability."
First-year KU football coach Lance Leipold said the program will serve KU's athletes particularly well during this time of transition from the old way to the new era.
"It's a comprehensive plan that ensures the members of our team will benefit from all of the great resources at Kansas, both during their time here and in the future," Leipold said in the release. "This is something we're excited to continue to learn about and integrate into Kansas Football."