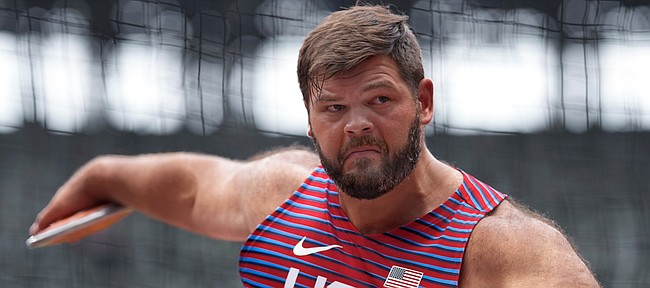 Former University of Kansas track and field star Mason Finley's second trip to the Olympics concluded Friday in Tokyo without a berth in the medal round.
Finley's best throw in his heat traveled 60.34 meters, leaving him a little more than a couple meters behind the 12th and final qualifying mark of 62.93. He finished 23rd among the 32 competitors.
Five years ago, at the 2016 Olympics in Rio de Janeiro, Finley placed 11th in the event while making his Olympic debut.
Before heading to Tokyo for his latest crack at a medal, Finley earlier this summer said he hoped to fare better in his second Olympic appearance.
Finley secured his spot at the Tokyo Olympics by winning gold at the U.S. Olympic Trials, with a throw of 63.07.
In an interview prior to his trip overseas to compete on the grand stage, Finley said regardless of the outcome, throwing at the Olympics is an amazing feeling.
"You know you're one of the best in the world and you've put all this work towards that," Finley said of what makes the experience so "cool."