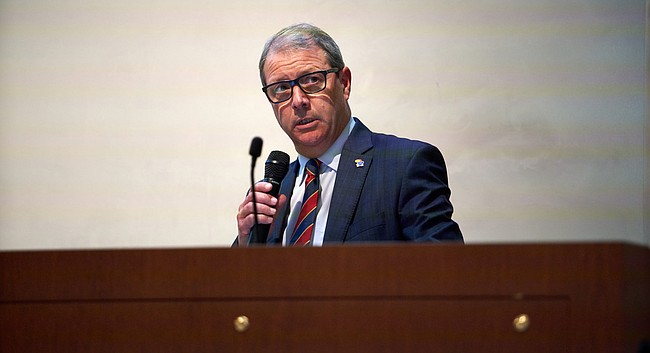 The decision by Texas and Oklahoma to pursue a move to the SEC came like a thunderbolt. The response to that decision shouldn't, University of Kansas Chancellor Douglas Girod said in some of his first public comments about unrest in the Big 12 Conference.
In a brief interview Wednesday, Girod indicated the Big 12 is in a better position than some may believe due to the contract provisions that essentially allow the Big 12 Conference to control the media rights of Texas and Oklahoma into 2025.
"First, you don't panic," Girod said of how KU and other members of the Big 12 move forward following Tuesday's announcement that Texas and Oklahoma don't intend to renew their media rights with the Big 12 once they expire in 2025. "We are talking about change that could take four years to come to fruition.
"They are locked in for another four years. We have to make sure we are thoughtful about this and create the best path forward given that the landscape is shifting very quickly."
While Tuesday's announcement created the possibility that Texas and Oklahoma would remain in the Big 12 until 2025 — the schools perhaps would have to pay penalties totaling upward of $100 million to leave early — there's also been much speculation that the Big 12 could fall apart well before then as other schools bolt in fear that the conference won't hold much appeal to the big-dollar media companies once the Longhorns and Sooners leave.
Girod on Wednesday, however, was touting the need to go slower rather than faster.
"We are not obligated to make any decision today, nor should we," Girod said. "Collectively, the group will be talking about what is the best path forward. But the biggest mistake we could make, in my opinion, is to make a rash decision."
Girod said the questions surrounding this potential conference reorganization are much bigger than what KU and others have faced in the past, including in 2010 when Colorado and Nebraska left the Big 12, and in 2011 when Texas A&M; and Missouri acted to leave the conference.
Girod, who became KU's chancellor in 2017, said the big difference between then and now is that the future of the NCAA itself is uncertain.
"Unfortunately, we are doing this in an environment that is changing so fast with what is happening at the NCAA," he said. "In 24 months, I don't think collegiate athletics is going to look like it does today. This is not like the last go around with 'what conference do you want to be in?' This is 'what is college athletics going to look like in two years?' It is a much bigger question than it has been historically."
What is easy to understand is that the stakes are high for KU and others. Girod said being in a Power Five conference brings value not only to KU but to the entire state "and the economic impact of that is quite significant."
But there are plenty of direct dollars at stake for KU too. You don't have to look too far to see how a large state university has a much different athletic department due to the fact that it has been shut out of a Power Five conference. Colorado State — which, if it were in Kansas, would be the largest university in the state with its enrollment of 32,000 students — had an athletic department budget of $56 million in 2019, before the pandemic wreaked havoc on athletic finances. KU, on the other hand, had an athletic department budget of $121 million, according to NCAA filings made by the school.
But the real pain in those numbers becomes evident when you take a closer look at where Colorado State gets its $56 million. About $16 million came in the form of general university funds — the type that otherwise could be used to pay instructors or other general educational purposes. In addition, Colorado State charged its students about $6 million in fees that went to the athletic department.
KU, on the other hand, provided about $1.5 million in general university funds to the athletic department, and student fees for athletics totaled just less than $300,000 in 2019.
In other words, KU paid less than $2 million in support to its athletic department, while Colorado State paid more than $20 million in support to its athletic department.
The biggest difference between the two schools is that KU received Big 12 Conference and media distributions totaling $42 million, while Colorado State, with its membership in the Mountain West Conference, received just under $5 million.
Some schools, even those with powerhouse basketball programs, have fared worse. The University of Connecticut — whose men's team has won four NCAA national championships and whose women's basketball program is widely considered the greatest in history — is famous for having a money-losing athletic program. In 2019, the university had to provide nearly $37 million in direct support to the athletic department and charged students about $6.5 million in fees.
Girod on Wednesday acknowledged that KU is at risk of facing tough decisions about athletic department budgets if it is not able to stay within a Power Five conference.
"We are blessed that we are in the 5% of athletics that at least breaks even for the most part," Girod said. "That in itself is a rarity, and that is only because of being in a Power Five conference and the success of our basketball program.
"Falling out of the Power Five would make that very challenging given that higher education funding and enrollments are challenging across the country. All of these issues are going to come into focus very significantly in the next couple of years."