Gleb Dudarev, who has been a hammer thrower since he was 3-years-old, has quite literally been training his entire life for this moment. But even the former University of Kansas thrower knows to temper his expectations for his first trip to the Olympic Games in Tokyo.
"I will try to do my best," Dudarev said of his aspirations. "I'm saying my result can be like top-three at the Olympics."
Hammer throwers typically reach the peak of their careers at around 27-years-old, when they are stronger and more experienced. So Dudarev, who is 24 and fresh off finishing his illustrious collegiate career this past spring, might have a better shot of winning a gold medal in 2024.
"Hammer is more unique to older guys, there are not many younger guys who can do this," said Andy Kokhanovsky, who has coached throwers at KU since 2005. "The older you get, the more you have confidence, and you have to have good technique."
But that doesn't mean Dudarev can't get anything out of his debut at the Olympics. For one, Dudarev will have the privilege of representing Belarus after meeting his country's qualifying criteria.
"So excited to go to the Olympics and represent my country," Dudarev said. "So many people are training for the Olympics, but not everybody can go."
There are also plenty of learning opportunities for Dudarev during the biggest test of his young career. Dudarev, who has been training even harder this summer leading up to his trip to Tokyo, will begin the event with the men's hammer throw qualification at 7 p.m. on Sunday.
Depending on how that goes, the men's hammer throw final is slated for Wednesday, Aug. 4 and will take place at 6:15 a.m. If Dudarev can reach that second day, he will be able to see firsthand what it takes to be one of the best throwers in the world.
"He is not there right now to win," Kokhanovsky said. "For him, it's an experience just to be there. That will help him in the future."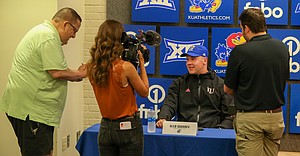 Yet Dudarev's past is perhaps more important ahead of this monumental moment in his life.
Because he is from a family full of throwers, Dudarev first tried hammer throw at 3-years-old. In fact, his mother (hammer throw) and grandmother (discus) at one time held national records in their respective events.
Dudarev was taught the basics of hammer throw by his late grandfather. At the time, Dudarev was mostly working on his technique while spending quality time with an important family member.
"If he didn't teach me the hammer, I'd never (have) gone to the Olympics," Dudarev said. "I would not come to (the) USA. I wouldn't (have) come to KU. It just gave me so much opportunity."

Dudarev, who is from Vitebsk, Belarus, knew how good he could be in this event when he set the Belarusian junior record in both hammer throw and weight throw. The accolades continued to pile up for Dudarev during his time in Lawrence between 2017-21.
At Kansas, Dudarev was a five-time All-American and a six-time Big 12 champion. He holds all 10 of the top-10 performances in KU outdoor history in his event, which includes a school-record throw of 78.29 meters (256-10 ft).
Dudarev has also improved his English during his time with the Jayhawks after not knowing the language at all when arriving in Lawrence.
"He's become a man now," Kokhanovsky said. "When he came here, he was a young kid who didn't know what to do."
Dudarev will be one of three Kansas throwers to compete at the Olympic Games this year. Mason Finley has high expectations in men's discus during his second trip to the Olympics, while Alexandra Emilianov is a first-time qualifier in women's discus.
"For the rest of his life, he's going to be an Olympian," Kokhanovsky said. "Just to make it at least once is a good experience. They will enjoy it, and they will become better people by doing this."
Olympics schedule for Gleb Dudarev (hammer throw)
Sunday, August 1 – Men's Hammer Throw Qualification (7 p.m.)
Wednesday, August 4 – Men's Hammer Throw Final (6:15 a.m.)