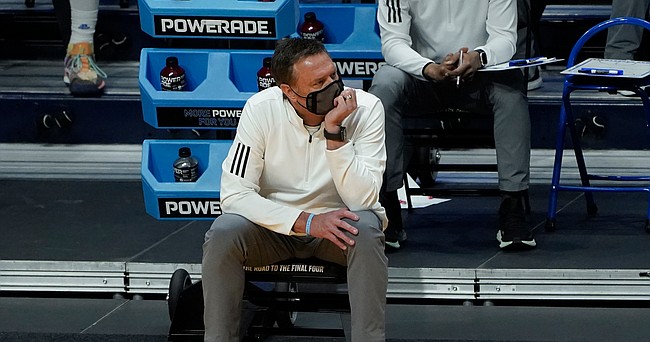 University of Kansas men's basketball coach Bill Self has tested positive for COVID-19 and is currently in isolation.
In a tweet from the KU men's basketball Twitter account on Friday, Self, 58, said that he was "feeling pretty good right now" and that he began experiencing minor symptoms on Thursday. He also said he was fully vaccinated and encouraged others to get vaccinated.
"I fully believe I would be in a much worse condition if not for the vaccine," he said in the statement.
Self also said he was originally planning to "get back on the road today to see some recruits at various tournaments," but that the positive test disrupted those plans.
"I was excited to get back on the road today to see some recruits at various tournaments this weekend, but I tested positive for COVID-19 and am in isolation," Self said.
The second session of Self's KU summer camps was slated to begin on Friday and run through the weekend. A KU spokesperson told the Journal-World that Self was not in attendance at the camp on Friday and would not be there in the days ahead but that the camp would go on as scheduled.
The spokesperson also said that the KU men's basketball program has a vaccination rate of 100%, meaning that all players, coaches and staff members have received the vaccine.
According to current CDC guidelines, those individuals who are fully vaccinated and come in close contact with a person that tests positive for COVID-19 are no longer required to quarantine.
Throughout the pandemic, Self spoke out about his desire to see people in the Lawrence community and around the world wear masks, observe social distancing rules and get vaccinated when possible to help bring an end to the public health crisis.
On Friday, in the tweet announcing his positive test, Self again encouraged others to get vaccinated.
"If you have not, please get vaccinated so we don't have to worry about this virus continuing to affect our communities and loved ones," Self said.
Throughout the 2020-21 season, Self and his players and staff were routinely tested for COVID-19. The Jayhawks did not have to miss any games because of positive COVID-19 tests within the program until the Big 12 tournament, when their semifinal game against Texas was called off. Three players — David McCormack, Jalen Wilson and Tristan Enaruna — all had to sit out late in the season because of COVID-19.