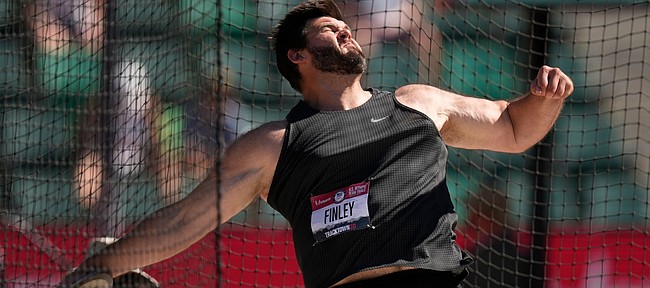 Nearly five years ago, when it was time for Mason Finley to make his Olympics debut in Rio de Janeiro, the former University of Kansas thrower discovered the stage felt even larger than he had imagined.
Now that Finley knows what to expect, though, he anticipates a different experience awaits him in the men's discus in Tokyo.
"I remember going to the '16 Olympics and seeing all of my idols right there that I was watching on YouTube just a month before," Finley recalled recently, ahead of his trip to compete in the delayed by a year 2020 Olympics.
"I was like, 'OK.' And I was pretty tight and just totally starstruck," Finley shared. "You go into the stadium, man, and there's actually people here and they're cheering and they're watching. It's just so much."
Finley placed 11th in the event (62.05 meters), 5 meters away from a medaling mark, while at the same time achieving a goal he had carried with him for a dozen years.
Now 30, Finley first "caught the bug" for Olympic competition, he remembered, in the summer of 2004. His father, Jared, recorded The Games on the family's TiVo — "if you remember that," Finley joked of the device that helped spark his interest.
"We would watch it all the time," he said of those recordings of Olympic events that turned a childhood interest into a personal life goal.
Becoming an Olympian for the second time earlier this summer — Finley won gold at the U.S. Olympic Trials in Eugene, Ore. — came with just as much pride and satisfaction for the former KU thrower and current volunteer assistant with the Jayhawks. And Finley doesn't think he'll feel wonderstruck this time around when it's his turn to throw in Tokyo.

"It's going to help a lot, honestly," Finley said of entering the Games with previous Olympic experience.
In the time since he last represented the U.S. at the Olympics, Finley also captured bronze in the discus at the 2017 IAAF World Championships, when he set his personal record with a heave of 68.03 meters. Plus, Finley said competing against international throwers during Diamond League events has helped change his perspective.
"They've turned from idols and people I've just seen on TV to fellow competitors," Finley said of the other throwers who will be aiming for medals at the Olympics. "And there's a comfortability with that, and you're able to relax and just do your thing."
Flight problems
When Finley flew out to Oregon for the U.S. trials in June, getting cozy wasn't an option. The 6-foot-8, 335-pound thrower actually ended up hurting his hip flexors and SI joints by staying put in his middle seat.
"It was just squeezing me for four hours, and I didn't get up," Finley said of what put him in enough pain that he wasn't even sure when he landed in Oregon whether he was going to be able to compete at the trials a little more than a week later.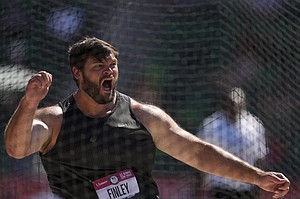 He had dealt with back pain and issues at times since he was 22, and knew what to do to recover from those ailments. But his post-flight discomfort was something entirely different. With help from a chiropractor, a sports psychologist and KU throwing coach Andy Kokhanovsky, though, Finley more than recovered, as he went on to finish first at the trials with a mark of 63.07.
"Different body parts just keep trying to go out on me and I won't let it happen," a laughing Finley said.
His next — much longer flight — from Chicago to Tokyo this week, Finley said, shouldn't be so agonizing for the oversized passenger. USATF made sure to book him a business class seat for the flight, and his chiropractor gave him an in-flight to-do list, which involves getting up every 30 minutes to stretch and using his massage gun.
"I have a game plan," Finley said with a smile. "It's going to be all right."
Renewed expectations
Slated to throw in Tokyo on July 29, several days after his arrival, Finley wants his second Olympic experience to conclude in far more spectacular fashion than his first.
Looking back at the 2016 Games, Finley knows he was "just happy to be there." Almost five years later, especially after winning bronze at the 2017 World Championships, he wants and expects to be on the podium when medals are handed out for the men's discus in Tokyo.
During the qualifying round, Finley said the game plan will be not to expend all of his energy. During that first stage he just has to throw far enough to advance, and he thinks roughly 64 meters will do the trick.
If he reaches the July 31 final as calculated, Finley will then unleash all he has within him for his throws while also trying to maintain some inner balance by keeping mentally calm and trusting his years of experience. He said he thinks a throw in the 66 to 67 meters range will be good enough for a medal and 68 to 69 will win gold.
"I haven't done it yet," Finley said — with an emphasis on the word yet — of flinging the discus 69 meters during competition.
What better time to come through with a new PR?
"I know it's totally possible, because I've done it at practice," Finley added. "I'm just going in there confident that it's going to happen."