In each of his 14 previous years as a head coach, Lance Leipold headed into his team's preseason camp with a wealth of knowledge about the program's personnel and a strong handle on what he and his staff could expect from most of the players once practices began. Leipold's first summer in charge of the Kansas football program brings with it an entirely different set of circumstances.
Usually, Leipold said this week during one of his appearances for Big 12 media days, he and his assistants can bank on knowing a foundation was laid during spring practices and that will carry over into the buildup for the season.
Not this year.
"For most of us that spring ball was somewhere else," said Leipold, hired to take over the ever-rebuilding KU football program in late April, not long after he and many of the Jayhawks' new assistant coaches completed offseason practices at Buffalo.
As Leipold put it while speaking with reporters over a video call, there's actually a lot of "unknown" in "knowing that you didn't get spring practice," which makes for a challenging summer as the coaching staff tries to make sure the offense, defense and special teams are as ready as possible for the start of preseason practices in early August, as well as the fast approaching season.
"We've got to be real smart," Leipold said. "I have to do a good job as the head coach to balance out (preseason) camp and how we go about practicing, teaching, repping and making sure we can stay healthy through that and yet get everything accomplished."
When KU unexpectedly needed to part ways with former head coach Les Miles in March, as sexual harassment allegations from his past surfaced, it led to a less than ideal timeline for bringing in a new coach. Receivers coach Emmett Jones, retained by Leipold and now in his third year with the program, served as the interim head coach throughout KU's 15 spring practices. Leipold arrived in Lawrence on the eve of the Jayhawks' spring game and watched the scrimmage from a suite in David Booth Kansas Memorial Stadium on May 1.
After reviving Buffalo football and leading it to three consecutive bowl appearances, Leipold took over KU's struggling program without the benefit of getting to direct it through an entire offseason. Leipold took the reins at a time when it would be a little more than three months before he could actually coach the team in a practice setting.
KU's head coach will get that opportunity in just a few weeks, as will the former Buffalo assistants he brought with him to Lawrence — offensive coordinator Andy Kotelnicki, defensive coordinator Brian Borland, offensive line coach Scott Fuchs, linebackers coach Chris Simpson and quarterbacks coach Jim Zebrowski.
In preparation for the start of preseason camp and the program's first practice of the Leipold era, the Jayhawks this summer are receiving an off-field introduction into what they can expect.
Super-senior receiver Kwamie Lassiter II said because the offense KU will run in the fall under Kotelnicki is different from what they ran in the spring (when short-term O.C. Mike DeBord called the shots), the Jayhawks have done a lot of studying.
"We have unit meetings as an offense, trying to learn the offense," Lassiter said during Big 12 media days. "We even meet on our own, because players like Trevor Wilson (the former UB wideout who transferred to KU), they already know the offense. So they help us out," Lassiter said, referencing Wilson, center Mike Novitsky and offensive lineman Michael Ford Jr., the three Jayhawks who transferred in this summer and already have played for Leipold and Kotelnicki.
"Once I know it like the back of my hands, it's going to get real," Lassiter added.
Similarly on the defensive side of the ball, junior safety Kenny Logan Jr. said Borland has provided a lot of videos for players to watch so that they can understand his schemes and learn about what the new coordinator wants the defense to look like in the fall.
"Coach Borland is a smart coach who's trying to help us," Logan said, "and get in the position to be successful this year."
While the unique process of getting familiar with a new coordinator and defense during the summer, leading up to camp, could be viewed as difficult, Logan thinks the Jayhawks are taking it in stride.
"I mean, there's always going to be some obstacles," Logan said. "We got over a couple of them already, so there's nothing to it. We've just got to put our head down and listen and go to work as a defense."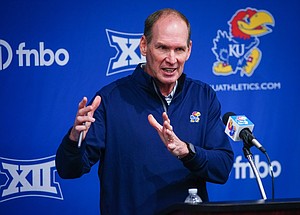 To be sure, the situation presents distinctive obstacles for Leipold and the new assistants, too. They have been with the program long enough to start to get to know the players as people and can access archived practice and game video to view returning players in action, but it's not the same as having gone through spring practices with the team.
"Pure abilities are going to show once the pads come on," Leipold said, adding all of the players will be making first impressions on the new coaches once preseason practices begin. "It's almost like having a class of freshmen."
Amid it all, Leipold said he doesn't want players or coaches wasting energy thinking about what they didn't get to do. He said the Jayhawks all need to view their atypical college football summer as a positive.
"And what we get with this is a fresh opportunity for a lot of young men to show what they can do," Leipold said, "and a chance for competition to really be a positive for us in the daily ways of progressing through camp."
KU's third head coach in the past four seasons thinks both established players and overlooked ones on the roster could ultimately benefit from what lies ahead.
"Somebody that's maybe felt comfortable in their position now has to make sure they go out and prove themselves to this new coaching staff and show themselves," Leipold said.
On the other end of the spectrum, he also said it's possible players who felt like they picked up an unfair label with the previous regime or found themselves in a rut last year will get the opportunity to reshape their images.
"We're going to find ways," the coach said, "for that to be the positive for us."