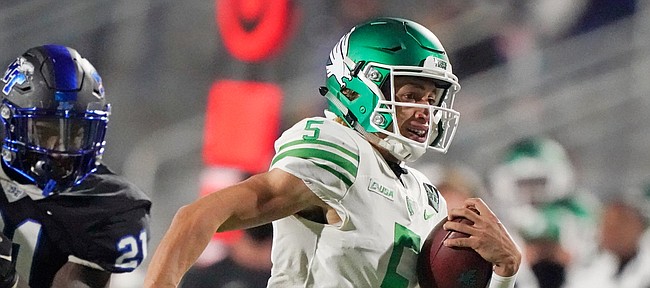 Arlington, Texas — For most college football coaches, it's never too early to talk about a quarterback competition. But as Kansas head coach Lance Leipold explained Thursday during Big 12 media days, his ability to forecast the race ahead for KU's QBs remains far from fully informed.
Unable to attend the summer media event in person at AT & T Stadium due to weather conditions in Lawrence that prevented KU's flight from taking off, Leipold fielded questions over a Zoom call from reporters who were set up on the Dallas Cowboys' home turf. It didn't take long for Leipold to receive an inquiry about the newest QB on the roster, North Texas transfer Jason Bean.
After a brief chuckle, Leipold replied: "I'm excited about all our quarterbacks."
KU's head coach, who has been in charge of the program since the end of April, just as the Jayhawks wrapped spring football, said the team will have "quite a few" QBs in preseason camp when that begins in August.
The unique timing of Leipold's hiring, of course, means that Leipold won't run a practice with the Jayhawks until roughly a month before their season opens in September.
"To really say that I've got a chance to watch guys in person to get an evaluation has not happened," Leipold said. "And so whether it be Jason Bean or Jalon Daniels or Miles Kendrick or any of our young quarterbacks that we have, that'll be in August."
The former Wisconsin-Whitewater and Buffalo head coach said he and his staff hope to replicate a "culture of competition" at KU like he had at his last two stops.
While Kendrick technically started at QB in KU's spring game, the senior and sophomore Daniels split most of the reps during the open scrimmage. Bean didn't join the team until this summer. The three are expected to be the top contenders to start during Leipold's first fall in Lawrence.
"We do feel that our practice model is going to give us a great opportunity to evaluate and make decisions," Leipold said. "But we know that we'll have to do so in a fairly fast period of time."