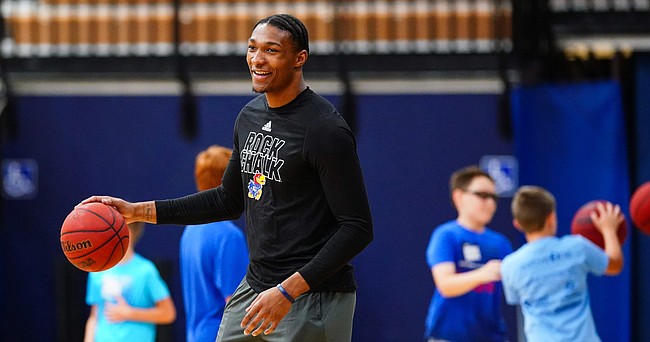 Kansas forward David McCormack was back on the court practicing on Monday afternoon, KU coach Bill Self told the Journal-World.
McCormack, who had surgery to repair a broken bone in his right foot on the final day of March initially was expected to miss around 12 weeks during his recovery.
Wednesday marks the 15-week mark since McCormack's surgery.
Self said the senior forward was "in good shape" on Monday and that he went through "the majority of the reps" in a half-court setting for 45 minutes to an hour during his first day back to practice.
McCormack had been wearing a protective boot throughout most of June, but photos posted to Twitter from a recent appearance at a Washburn Basketball satellite camp at Blue Valley Southwest High showed him working the camp without the boot.
"He has not been totally released," Self said. "But he has been able to do all the stuff he needed to do to get back out there. For the first day out, he did pretty well."
Self said McCormack would follow a similar schedule for the next week or two before returning to full basketball action.
After a slow start to his junior campaign, McCormack finished the season as a second-team all-Big 12 honoree after averaging 13.3 points and 6.2 rebounds per game.
Despite the setback, McCormack said last month that he had high expectations for his senior season and that being out for a few months allowed him to focus both on the mental side of his game and expanding his leadership ability.
The need and desire to address both areas came to McCormack during his self-evaluation of the 2020-21 season, which he remains proud of to this day.
"It definitely speaks to my perseverance," he said during a break at Washburn Basketball camp in mid-June. "I've always been one to never give up, never fold and just kind of always trudge forward, head down to the grindstone. I know I had it in me and I had the capability and it just came out a little bit later than what people expected."
And the goal for this year?
"I'm telling you, it's only going to be up from how the season ended," McCormack said.