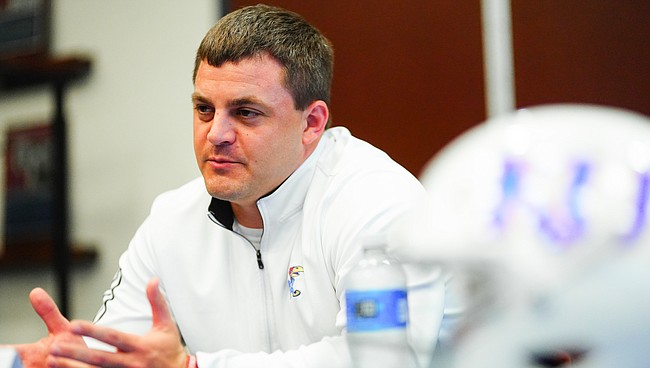 Jake Schoonover has only been coaching the special teams since joining the Kansas football staff in February, but he saw enough in the spring to be optimistic about the unit entering the 2021 campaign.
It is mostly because of a core group that gives Schoonover plenty of confidence that the Jayhawks will have success in all phases (kick, punt, return and coverage) of special teams play this fall.
"I think we're gonna have a lot of quality kids," Schoonover said. "Whether it be linebackers, safeties, receivers, running backs or tight ends. I think we have a nice nucleus. I always talk about the core guys who are going to be on multiple teams."
"I think we have a nice core that I can count on that is going to take steps forward in the summer and fall," Schoonover added. "That'll give us a good nucleus."
The Jayhawks bring back plenty of firepower in the return game. Junior safety Kenny Logan Jr. is back as a kick returner after ranking fourth in the Big 12 in 2020. He accumulated 345 yards on 13 kick returns, which included a 100-yard touchdown against Iowa State.
Jamahl Horne, a speedy wide receiver, has made an impact as a kick returner in each of the past two seasons. The 5-foot-10, 186-pound junior averaged 22.6 yards per return on a total of 15 returns last fall.
As for punt return, receivers Kwamie Lassiter II (senior) and Kyler Pearson (redshirt freshman) both figure to have an opportunity to contribute after getting reps there in the spring.
"We have a couple of returners who can do things with the ball in space," Schoonover said. "Obviously we have to give them space and give them an opportunity."
Schoonover said that redshirt sophomore Luke Hosford will be taking over long snapping duties for KU. Hosford, who is 6-foot-2 and 230 pounds, came to Lawrence from Cuyahoga Falls, Ohio.
"He had a great spring," Schoonover said. "I was really impressed with his maturity for a guy that has never done it in a game. I feel good about him and where he's at."
Redshirt sophomore kicker Jacob Borcila is back after being KU's primary option in field goal situations last year. He connected on six of his nine field goal attempts, which included a long from 48 yards out.
"Jacob is a consistent kid, gets the ball up really well," Schoonover said. "I feel good about where he's at. He's got to build strength and get length in his leg."
Sophomore kicker Tabor Allen was mostly used on kickoffs, where he accumulated 943 yards on 18 total kickoffs. Allen will also push Borcila for field goal opportunities, according to Schoonover.
"Big-time leg," Schoonover said of Allen. "A little inconsistent at times, but big-time leg on kickoffs. He shouldn't have to cover as many as they have in the past."
Sophomore Reis Vernon returns as the team's punter after taking over such duties for the final five games of the 2020 season. He punted 38 times for 1,438 yards, which was an average of 37.8 yards per punt. His longest punt of the year was 50 yards.
"A little unorthodox at times," Schoonover said. "But the ball gets up all the time. We are all about hang time and location. He did a great job this spring consistently putting the ball on the numbers with hang time."
It is shaping up to be an improved unit this season during Lance Leipold's first year at the helm.
According to NCAA Premium Stats at Pro Football Focus, Kansas posted a special teams grade of 63.1 in 2020. That mark was good for 115th in all of college football, with TCU (61.1 — 117th) being the only Big 12 team with a lower grade and ranking.
"There's great special teams units around the league," Schoonover said. "To see how we compare to that is going to be exciting for me. But I feel good about where we are going."