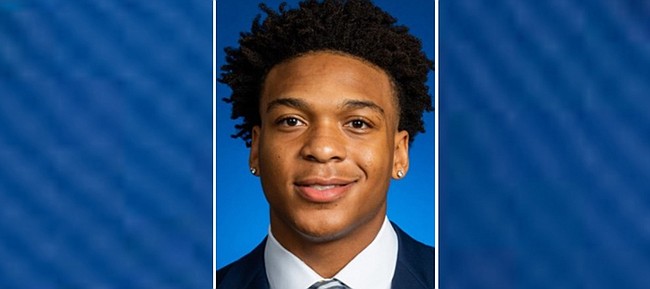 A former Michigan reserve linebacker who's not far removed from receiving a four-star grade as a high school prospect, Cornell Wheeler announced on Monday he's transferring to the University of Kansas.
"Blessed to be a Jayhawk," Wheeler tweeted. "(Let's) work."
Wheeler spent just one season with the Wolverines after signing with Michigan in the Class of 2020, when Rivals rated him as a four-star inside linebacker and the No. 6 recruit in the state of Michigan.
Listed at 6 feet and 231 pounds on Michigan's roster before he entered the portal, Wheeler didn't play in any games for the Wolverines in 2020.
In an interview with Jon Kirby of Jayhawk Slant, Wheeler said one of the reasons he chose KU was because it felt like "the right place" for him.
"I feel like they need depth at linebacker, and I feel like I can get on the field quick and just make a change there," Wheeler told Jayhawk Slant. "There's another linebacker coming from Michigan, as well, in Rich Miller (who transferred from Buffalo). I feel like me and him can make a change there. That's why I chose Kansas, because I feel like they needed me most."
Indeed, the Jayhawks don't return a ton of experience at linebacker. Juniors Gavin Potter and Nick Channel are two of the position group's more seasoned options, as both took on starting roles during the 2020 season, when the Jayhawks lost starters Dru Prox and Denzel Feaster.
During his days as a standout high school linebacker at West Bloomfield (Mich.), Wheeler picked up 13 scholarship offers, with eight coming from Power Five programs, including Michigan State, Iowa State, Kentucky and Missouri.
At the time, Wheeler also got recruited by Chris Simpson, who back then worked for Lance Leipold at Buffalo. Now that Simpson and Leipold are at KU, that relationship, Wheeler told Jayhawk Slant, influenced his decision.
"As soon as me and Coach Simpson met, it was out of sight," Wheeler said. "The vibe that we had between each other was great. We didn't just talk about football; it was more just life. He talked to me like a person, and it was a lot more than just football. That started everything. I feel like he can take my game to the next level. Really, I see a coach that has trusted me, and he has faith in me."
Wheeler will have four years of eligibility remaining as he joins the roster heading into this season.