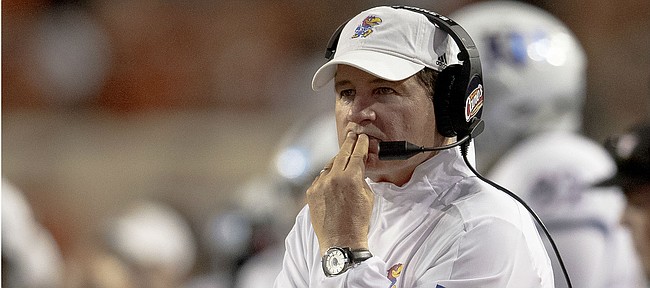 Now that we know that KU offensive coordinator Brent Dearmon is leaving the program, it's imperative that the Kansas administration moves as quickly as possible in finding his replacement.
After all, with February suddenly right around the corner, spring football is not that far off and the Jayhawks desperately need to take full advantage of whatever work they can get this spring after missing the entire spring session in 2020 because of the COVID-19 pandemic.
Les Miles, Jeff Long, Mike Vollmar and whoever else is involved in the hiring — KU's fourth OC hire since Miles took over — will need to move quickly, but they also need to do a thorough vetting of any candidate to make sure they're hiring a replacement who really wants to be here and not one who just really wants a nice pay check.
That would be the case any year and with any hire. But its importance is magnified a great deal with the pandemic having hit the athletic department's budget so hard in the past year.
Long's plan all along was for KU to finally and fully commit the necessary resources — read: money, bodies, time and talent — to rebuild the football program. And there's no doubt that that's still the plan. But the financial situation that KU and other colleges and universities across the country are currently facing makes an already tough challenge even greater.
With that in mind, the Jayhawks essentially have three ways they can go in their search for Dearmon's replacement.
First, KU can make the safe and easy move and promote current assistant Emmett Jones into the OC role full time. After all, Jones is plenty familiar with KU's personnel (he recruited a lot of it), has worked with Miles for a couple of seasons and already owns the title of passing game coordinator.
Perhaps most importantly, Jones' salary ($300,000 per year) is already in line with what KU was paying Dearmon ($250,000), so that part of the equation would be more than manageable. Moving Jones into a bigger role may lead to the talented coach and recruiter getting a small raise, but probably not enough to rock the boat.
Promoting Jones would allow KU to get creative and be budget friendly in filling the final spot on Miles' staff, perhaps with a full-time quarterbacks coach or second wide receivers coach to help take some off of Jones' plate.
The second option for hiring a replacement is KU being bold and trying to attract a big, exciting name to come call the offense. The first name that comes to mind in this category that's even reasonable to consider is Ed Warinner.
Warinner, who has been an assistant at Notre Dame, Ohio State, Minnesota and Michigan since leaving KU following the 2009 season, recently ended a three-year run as the offensive line coach at Michigan.
Even while gone, Warinner always kept an eye on the Kansas program and he often was mentioned as a candidate when KU's head coaching gig came open.
If Warinner still desires to be a head coach someday, coming to Kansas, doing well with the offense and eventually replacing Miles when he's ready to call it a career may be his fastest path to a Power 5 job.
There surely are other splashy names KU could consisder in this category. But Warinner's track record at Kansas, where he coached KU's O-line in 2003 and 2004 and was Mark Mangino's OC from 2007-09, would give him an edge simply because he's been here and knows what it takes to succeed.
The biggest question regarding Warinner, if he's interested, is whether KU could afford him.
The third option addresses that last issue and leads to KU deciding to play it cheap and trying to hire the most cost-effective coach they can find.
That, most likely, would lead to Miles and company hiring a younger coach, like Dearmon, who is looking to make the next step in his climb or jump up a level.
Going this route would introduce the most risk because KU would be hiring an unknown, unproven replacement and could be jeopardizing what they have working with Jones, who has been a major part of KU's recruiting success during the past two seasons.
No matter which way they decide to go, finding a replacement for Dearmon — given the state of the program and financial restraints KU is facing — will not be easy.
But maybe Miles' fourth OC hire at Kansas will be the charm. Either way, the best move for KU as of now, no matter who it hires, would be making it quickly.