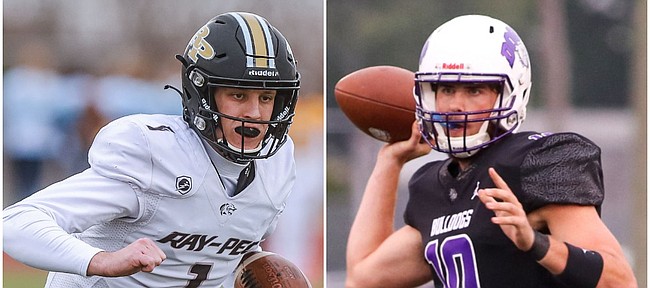 Some of the newest members of the University of Kansas football program already are moved in and ready to join the Jayhawks for the approaching spring semester.
As expected, KU is adding seven Class of 2021 recruits mid-year, with the arrival of quarterbacks Ben Easters and Conrad Hawley, safeties Omar "O.J." Burroughs and Jayson Gilliom, offensive tackles De'Kedrick Sterns and Larson Workman, and cornerback DeVonte Wilson.
KU confirmed to the Journal-World that those freshmen are being added to the roster for the spring, as are Notre Dame graduate transfer Colin Grunhard and Class of 2020 signee JaCobee Bryant.
What's more, three noteworthy walk-ons are joining the team before the start of the spring semester: kicker and punter Gavin Gundaker, former Free State High and Butler Community college defensive back Kwinton Lassiter (younger brother to KU receiver Kwamie Lassiter II) and receiver Kevin Terry, who is transferring to join the Jayhawks after spending the previous three seasons as a walk-on at Texas Tech.
KU football shared a video on Twitter of some of the new players moving in on Sunday morning. The clip included head coach Les Miles helping push a cart full of Sterns' belongings, and a few assistant coaches, including offensive coordinator Brent Dearmon and receivers coach Emmett Jones, welcoming the freshmen to campus.
Jones also posted to his Twitter account a selfie of him with Terry, who joined the Red Raiders in 2018, when Jones still worked for Texas Tech.
Ahead of the move-in day, Hawley and Easters both spoke to the Journal-World in phone interviews and shared what they hope to bring to the program as true freshmen.
Said Hawley, a three-star QB and Simone Award winner from Ray-Pec High, in Missouri: "I just want to come in and work and bring a little bit of a winning attitude. And hopefully become a leader in my class."
Hawley said he plans on showing his new teammates what he's about as a player, and "whatever I'm asked to do, accomplish it to the best of my ability."
Easters, a three-star QB from Brownsburg, Ind., also brought up his leadership qualities, as well as "grit and toughness," when asked about what attributes he wants to showcase as a new addition to the program.
"I think it helps that as a freshman I played JV at my old school. I think being with older guys my very first year (of high school football) helped me become better at building relationships with people I didn't know," Easters noted. "And then being the starter for the last three years, we faced a lot of adverse situations. I think I've been able to grow as a leader, I've been able to grow in terms of mental toughness."
While the first week on campus will mostly involve meetings, introductions and getting acclimated for the newest KU football players, they are expected to begin offseason strength and conditioning work with their new teammates on Monday, Feb. 1.
KU football 2021 spring semester additions
• Colin Grunhard — C, 6-1, 290; Notre Dame grad transfer
• Ja'Cobee Bryant — CB, 6-1, 175; Evergreen, Ala.
• O.J. Burroughs — S, 5-10, 167; Savannah, Ga.
• Ben Easters — QB, 6-3, 195; Brownsburg, Ind.
• Conrad Hawley — QB, 6-5, 220; Raymore, Mo.
• De'Kedrick Sterns — OL, 6-4, 272; Austin, Texas
• Larson Workman — OL, 6-5, 265, Ganado, Texas
• Devonte Wilson — CB, 6-3, 192, Quincy, Fla.
• Jayson Gilliom — S, 6-2, 190; Suwanee, Ga.
• Kevin Terry (walk-on) — WR, 6-1, 195, Texas Tech transfer
• Gavin Gundaker (walk-on) — P/K, 5-11, 179; St. Augustine, Fla.
• Kwinton Lassiter (walk-on) — DB, 5-10, 165; Butler CC transfer