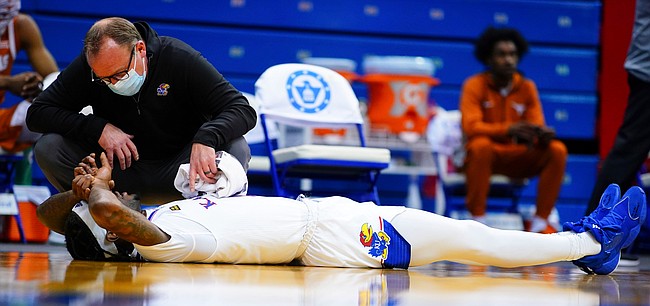 Kansas senior Marcus Garrett did not practice on Sunday and the Jayhawks are waiting to see how Garrett performed and responded to Monday's practice before making a decision about his status for Tuesday's game at TCU.
Garrett, who was hit in the head by an inadvertent flying elbow from Texas' Jericho Sims on a rebound attempt, missed the final seven minutes of Saturday's 84-59 loss to the Longhorns.
Self said after the game that Garrett would likely be held out on Sunday and he was.
"He's pretty good," Self said of Garrett when asked during Monday's Zoom call with reporters. We held him out yesterday and he's going to try to go light today and to see where he is."
Self officially listed Garrett as "day to day."
"If he feels good from (Monday's practice) then hopefully he'll be able to go tomorrow. There's no guarantee he'll play tomorrow, but if he holds up well today there's also a good chance he will."
Self also confirmed that freshman guard Bryce Thompson, who missed the Texas game with a back injury, would be sidelined again at TCU on Tuesday night.
"Bryce won't play," Self said. "I'll let you guys know when we think he could come back, but it's a situation that I hope it doesn't take two weeks before we start getting him back in, but you I believe it could take up to that."
If Garrett joins Thompson in street clothes for this one, Self said redshirt freshman Dajuan Harris would see his minutes increase dramatically.
Despite the absence of Garrett and Thompson from Sunday's practice, Self said his team responded well to the loss to Texas with a high-energy session on Sunday, both in the practice gym and the film room.
"I liked practice yesterday," Self said. "I thought (our) energy level was good. The film session was very good, even though it wasn't always positive, and guys all took it the right way. So we can get better through this."
Sixth-ranked KU (8-2 overall, 2-1 Big 12) and TCU (9-2, 2-1) will tipoff at 9 p.m. Tuesday night in Fort Worth, Texas, on ESPN.