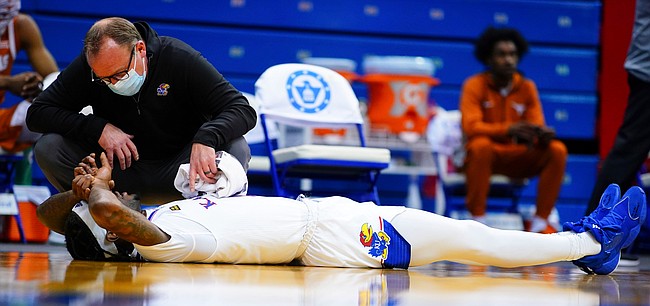 What Kansas basketball coach Bill Self called "a hard fall" kept freshman guard Bryce Thompson out of Saturday's 84-59 loss to No. 8 Texas at Allen Fieldhouse.
And Self said after the game that Thompson would not be back in time for KU's Tuesday game at TCU.
"We won't have him at TCU," Self said of the freshman guard who has been KU's sixth man most of the season. And after that, who knows? We don't think it's gonna be a three- or four-week thing. But we think it could very easily be a couple of weeks."
Thompson injured his back during the week of practice leading up to Saturday's game, KU's first of 2021.
Self said Thursday that he hoped Thompson would be full go on Friday and 100% by Saturday, but Thompson's back did not respond well enough for the Jayhawks to put him out there. Thompson sat in all black at the end of the Kansas bench throughout Saturday's loss. And not having him was definitely something his teammates noticed.
"We had a practice (Friday) without him," redshirt freshman Jalen Wilson said after the loss. "He's definitely a key player in bringing energy to the game, just coming in and doing what he does. But we were able to prepare without him."
Photo Gallery
Kansas basketball v. Texas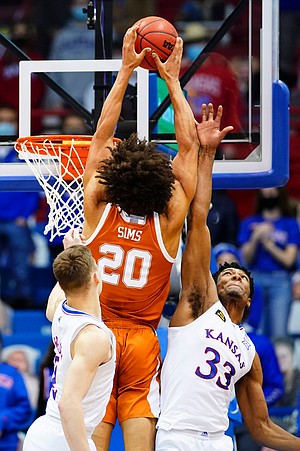 View a gallery of images from Saturday's game between the Jayhawks and Longhorns at Allen Fieldhouse.
That meant more minutes for fellow reserves Tristan Enaruna and Tyon Grant-Foster, but Self did not come away particularly impressed by anything those two or anyone else on the team did on Saturday.
"Nobody played well, guys," Self said. "Tristan had a couple of nice moves, but that was not anything that I'm gonna walk out of here saying we can draw something positive out of that. And in the biggest reason is because I didn't think we played until the end. I thought we played until about the 10 minute mark or the eight-minute mark and then after that we didn't show much fight."
Garrett smacked
Late in Saturday's loss Kansas senior Marcus Garrett was hit in the face by an inadvertent elbow from Texas big man Jericho Sims as the two players prepared to jump for a rebound.
The incident came with 7:20 to play, when Sims' left elbow caught Garrett in the face on the way up. Garrett stayed down on the court in front of the Texas bench for several seconds as play continued and then for a couple more minutes with trainers when play was stopped.
Garrett did not return to the game and the officials did not review the play for anything intentional.
"He got his bell rung pretty good," Self said of the senior point guard. "I'm sure that he'll be out (Sunday) regardless. But I don't know what his status will be moving forward."
COVID-19 update
During his pregame interview with KU play-by-play announcer Brian Hanni, Self said that the Jayhawks had been tested for COVID-19 three times since returning from winter break on Dec. 27 and that his players and coaches were cleared to play as of Saturday morning.
All 14 players on the roster were on the bench for Saturday's game and 11 of them played, with only walk-ons and Thompson not getting into the game.
Various reports that surfaced prior to Saturday's game indicated that Texas was without two players because of COVID-19-related issues. Stadium's Jeff Goodman noted that junior forward Kamaka Hepa and senior forward Royce Hamm Jr. were the two affected UT players who did not make the trip.
Texas played eight players in Saturday's win and had just 10 or 11 in its bench area.
Document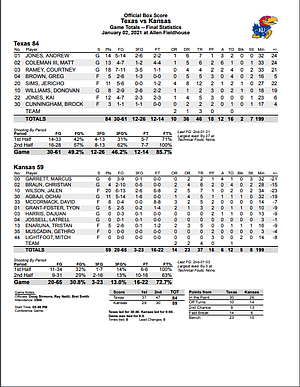 Hello, Hudy
Saturday marked the second game back in Allen Fieldhouse for former longtime KU strength coach Andrea Hudy, who joined the Texas basketball program prior to the 2019-20 season.
Before the game, Hudy made a couple of laps around Allen Fieldhouse to say hello to old KU friends and even looked up into the stands to wave and give air hugs to others.
This and that...
Saturday's loss dropped KU to 8-2 for the first time since the 2017-18 season and snapped a three-game winning streak against the Longhorns. KU now leads the all-time series with Texas 35-10, including a 31-9 mark since the two programs joined the Big 12 Conference... KU is now 5-1 this season in Allen Fieldhouse, 807-115 all-time in the venue and 269-15 all-time under Self in their home gym... The loss was the 111th for Self at Kansas, moving him to 509-111 overall in 18 seasons... Garrett's three steals moved him past the 150-steal mark for his career. The senior guard has recorded at least one steal in every game this season... Senior forward Mitch Lightfoot's two blocks moved him to 107 for his career, tying him with Drew Gooden for 18th on KU's career blocks list.