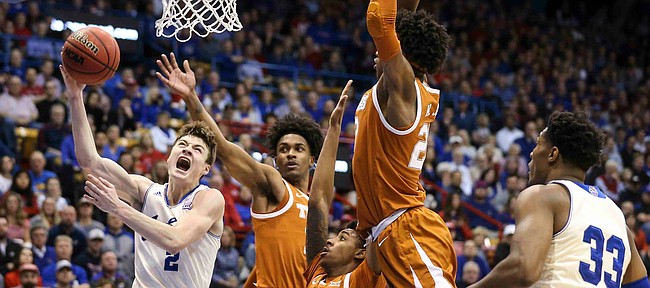 No. 3 Kansas Jayhawks (8-1 overall, 2-0 Big 12) vs. No. 8 Texas Longhorns (7-1 overall, 1-0 Big 12)
Time: 11 a.m., Saturday, Jan. 2, 2021
Location: Allen Fieldhouse, Lawrence, Kan.
TV: ESPN2 | Radio: IMG Jayhawk Radio Network
Log on to KUsports.com for our live game blog coverage and follow the KUsports.com staff on Twitter: @KUSports @mctait @bentonasmith & @SJacksonLJW
Keys for Kansas
1. Find a way to attack Texas' big men
Before noting that Kentucky freshman Isaiah Jackson blocked eight Kansas shots during the Jayhawks' three-point win over the Wildcats in early December, Kansas coach Bill Self noted that Texas' lineup has "like three taller Jacksons."
Their names are Kai Jones, who stands 6-11, Jericho Sims, who measures 6-10 and freshman phenom Greg Brown at 6-9.
Together, that trio gives the Longhorns the same kind of rim protection and athleticism inside that Jackson and Olivier Sarr gave the Wildcats.
And although it took KU an entire half to figure out how to attack Kentucky, the Jayhawks believe looking back at film of that game can help them against Texas.

"I think there's some similarities," Self said. "I thought (Jackson) was a terrific athlete, but he was probably only about 6-foot-8, 6-foot-8-and-a-half. (Texas has) bouncy guys like that across the board."
While that plays to Texas' favor defensively in the paint, the UT bigs provide a different challenging dynamic on the offensive end.
While scoring in double figures in each of his past three games, Brown made eight of 21 3-pointers during that stretch.
"That makes him extra hard to guard," Self said. "Because everybody's got to respect his first step and everything else and when you pressure out (he gets) more opportunities to (drive by defenders). He's shooting the ball so well. And Kai Jones, I don't think his numbers are quite as good from 3 as Greg's, but he's a threat out there, too. So that that makes them really hard to guard."
2. Make more simple plays
Since the opening week of the season, Self has noted that the Jayhawks are not a great passing team but that their offense becomes much more efficient and productive when they take what's given to them.
That remains an emphasis today and was a topic of conversation during the winter break, as well.
"Coach talked about not having home run plays in times of stress, just make easy passes," KU big man David McCormack said Thursday. "Trying to score easily, not trying to go for something that's a highlight play."
Self believes that strategy, which KU has used at different times throughout the season, will lead to easier baskets for the Jayhawks and make life harder for opposing defenses.
"And those easy baskets are going to transfer over and give us momentum during games," McCormack added.
McCormack highlighted redshirt freshman Jalen Wilson as one of the best on the team at making simple plays that lead to great things.
One dribble downhill with a quick pass, the ball rotates and gets back to him and he drives a bad closeout," McCormack said. "(That) makes it look like it's a better play than what it is. He just has the mind for the game and creating easy plays and making them look brilliant."
This concept becomes even more important against a team like Texas, which is probably why Self and the KU coaching staff emphasized it all week. The Longhorns rank third nationally in preventing others from scoring off of assists, limiting opponents to a 35.5% assist percentage. For what it's worth, KU's defensive is also elite in this department, ranking 13th nationally at 39.2%.
3. Rebounding emphasis
Self mentioned Thursday, on a couple of different occasions, that defensive rebounding was an area in which he would like to see his team improve in the weeks and months ahead.
And while that figures to be an emphasis against that big Texas front line, the Jayhawks might do better to focus their efforts in this one on getting on the offensive glass.
Defensive rebounding will always be key. And KU can't give up a ton of second-chance points and easy put-backs to the Texas bigs. But if the Jayhawks can get on the offensive glass and steal a few possessions against Texas the way they have against most other teams so far this season, it could go a long way toward neutralizing whatever UT's front line might get from its offensive rebounders.
Kansas ranks 26th in the country in offensive rebound percentage, getting back 36.3% of available opportunities. That number includes the Jayhawks' most recent game, during which they ripped down 19 offensive boards and got back 51.4% of their misses en route to running away from West Virginia.
That game proved that the formula works and that KU has the pieces to continue to make the offensive glass a key part of its attack, regardless of how big the opponent may be.
Marquee Matchup
KU's 3-point shooting vs. Texas' 3-point defense
Fresh off of one of the most noteworthy 3-point shooting days in recent KU memory, it will be interesting to see how much of KU's 3-point onslaught that beat West Virginia carries over to the Jayhawks' first game of 2021.
The last time out, three KU players had double-digit 3-point attempts and nearly 60% of the team's shots came from behind the arc. That number is a little higher than Self would like, but it might be a key part of this game.

Texas, which ranks fourth in KenPom's defensive efficiency category, is particularly good at defending the arc. Opponents have shot just 27.2% from 3-point range against the Longhorns so far this season and UT is averaging just over four 3-point makes per game.

Despite the numbers, Self said KU's attack won't change and that the Jayhawks' plan is for KU to "play to who we are."
"They are very good defensively," Self said. "I wouldn't say they're just good defensively around the arc; I think they're really good defensively in general and they have so much length and athleticism on the front line that they can make easy plays very, very difficult."
In addition to focusing on the three keys above to help solve the UT defense, the Jayhawks could employ a strategy that goes against the numbers.
"You could also say they're really, really long at the room so you probably want to try to maybe drive to pass and maybe shoot a few more 3s," Self said. "I don't know. We'll just try to take what we can get, whether it be from behind the arc or inside."
Jayhawk Pulse
Reports out of Austin, Texas, indicate that the Longhorns will be shorthanded in this one because of COVID-19 protocols.
The identity of the players who will not make the trip was not revealed, but UT coach Shaka Smart told the Austin American-Statesman's Brian Davis that there would be "a guy or two that cannot go on the trip."
How much that impacts the game likely depends on which players aren't in Lawrence. But the Longhorns have enough depth, talent and experience to give the Jayhawks a tough game regardless of who is not here. And the Jayhawks are treating the game as the marquee matchup that the rankings suggest it is.
"This'll be as hard a game as we've played so far," Self said Thursday. "I love their personnel. And I liked it last year and they return what their top six guys or seven guys? They're an impressive team to watch. They've got a nice team. Shaka has had some good teams since he's been there, but I believe this has a chance to be a special team for him."
The Jayhawks enter this one off of their longest stretch of off days of the season. KU last played on Dec. 22, took four days off for the holidays and even mixed in a team bowling outing on Wednesday to add a little off-the-court fun to the grind of the season.
Kansas leads the all-time series with Texas 35-9, including a 31-8 mark since the two became members of the Big 12 Conference.
KU has won 13 of the last 14 meetings between the two teams and is 16-1 all-time against Texas inside Allen Fieldhouse.
The Jayhawks will be playing their second consecutive top-10 opponent for the first time since the 2016-17 season, when they knocked off No. 9 West Virginia and No. 4 Baylor in back-to-back games in February of 2017.
KenPom.com has KU with a three-point edge in this one and a 61% win probability. Oddsmakers in Las Vegas have the Jayhawks listed as four-point favorites, down from the opening line of Kansas -6.
Probable Starters
No. 3 Kansas
G – Marcus Garrett, 6-5, 195, Sr.
G – Ochai Agbaji, 6-5, 210, Jr.
G – Christian Braun, 6-6, 205, Soph.
G – Jalen Wilson, 6-7, 190, RS-Fr.
F – David McCormack, 6-10, 265, Jr.
No. 8 Texas
G – Matt Coleman III, 6-2, 180, Sr.
G – Andrew Jones, 6-4, 192, Jr.
G – Courtney Ramey, 6-3, 185, Jr.
F – Greg Brown, 6-9, 205, Fr.
F – Jericho Sims, 6-10, 245, Sr.