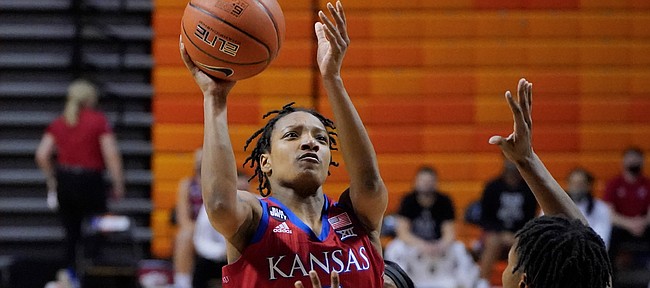 Kansas women's basketball coach Brandon Schneider left a 99-98 overtime loss at Texas Tech this past weekend discouraged about a number of things, but not his team's performance.
After losing back-to-back games by the narrowest of margins last week, the Jayhawks will have to move past those disappointing results and build on the positives they showed in two- and one-point setbacks when Texas visits Allen Fieldhouse on Wednesday night.
One of the more impressive recent stretches for an individual KU player came in the fourth quarter in Lubbock, Texas, on Saturday, when junior reserve guard Aniya Thomas scored 10 points on 3-for-3 shooting and went 3-for-3 at the foul line in a heated road battle.
"I thought she played really well. I thought she played her guts out. But I thought that about our whole team," Schneider said after Thomas scored a season-high 17 points.
Thomas' stellar fourth included a 3-pointer that put KU ahead by three in the final minute of regulation.
"I thought Aniya was good on both ends of the floor. She was good at attacking the basket," Schneider said, "and defended with a lot of heart."
What: Kansas (7-13 overall, 3-11 Big 12) vs. Texas (15-6, 9-5)
When: 7 p.m. Wednesday, ESPN+
Where: Allen Fieldhouse
Quick Note: Teams tend to have trouble handling the basketball versus the Longhorns. Through 21 games, UT opponents are averaging 19.8 turnovers per game.
All of those mistakes being made typically fuel the Longhorns' offense, too. They're averaging 22.6 points off turnovers per game and have only been outscored in that category twice all season.
During the first meeting between these two teams, back on Jan. 14 at UT, KU turned the ball over 16 times and the Longhorns scored 15 points off turnovers.
Streaking: KU's leading scorer this season, sophomore Holly Kersgieter set a new career high for points for the second time in four games, with a 29-point deluge at Tech topping her recent 25-point showing at West Virginia.
It marked Kersgieter's eighth consecutive game scoring in double figures, and her fourth time putting up at least 20 in the past six games.
Kersgieter, who is averaging 17.4 points and 6.6 rebounds, also blew away her previous career best rebounding total (it was 11) by pulling down 16 boards at Tech.
"I thought she was terrific," Schneider said. "Having to play 41 minutes, we had some key defenders foul out and she had to go guard out of position in the fourth quarter and in overtime. She fought that matchup really hard. I thought 29 and 16 for a sophomore on the road was pretty damn impressive."
Slumping: KU has now dropped eight of its past nine games. During that span the Jayhawks often have had high turnover totals.
At Texas Tech (with five extra minutes of game time due to OT), KU suffered 20 turnovers — the team's highest mark in that category in Big 12 play this season.
During the past nine games, KU had fewer than 12 turnovers just once. In that stretch, the Jayhawks are averaging 15.4 turnovers per game.
Last game's starters
Kansas
G — Zakiyah Franklin, 5-7, so.
G — Holly Kersgieter, 5-10, so.
G — Brooklyn Mitchell, 5-6, jr.
F — Ioanna Chatzileonti, 6-3, fr.
F — Katrine Jessen, 6-3, fr.
Texas
G — Kyra Lambert, 5-9, gr.
G — Audrey Warren, 5-9, jr.
G — Joanne Allen-Taylor, 5-8, jr.
G — Celeste Taylor, 5-11, so.
C — Charli Collier, 6-5, jr.