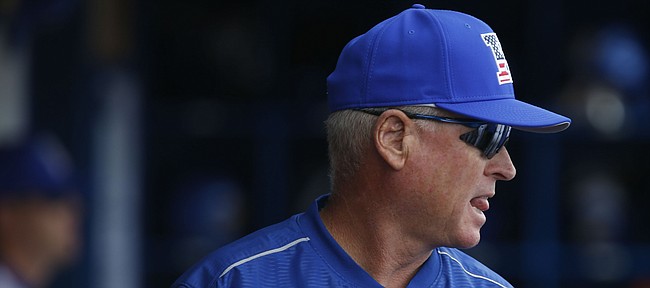 A DUI arrest over the weekend has resulted in a two-week suspension for Kansas baseball coach Ritch Price, KU Athletic Director Jeff Long announced on Monday evening.
Associate head coach Ryan Graves will serve as the program's interim head coach while Price serves his suspension.
In the announcement, Long said Price would be suspended from all team activities and that he met with both Price and the Kansas team to inform them of the decision.
"While I have tremendous respect and appreciation for coach Price and the manner in which he conducts our baseball program, as well as the leadership he provides our young men, in this instance he failed to meet our expectations," Long said in a statement. "Coach Price expressed to me his sincere remorse for putting himself in that position and the negative impact it will have on the program. I am confident he will learn from this dangerous lapse in judgement and so will his current and future baseball student-athletes."
Price said as much in a statement of his own.
"I would like to apologize to my family, players, KU administration, alumni, coaches, staff, as well as our donors for embarrassing them, the University of Kansas, our entire athletic department and myself," Price said in the statement. "As I shared with my team, the consequences from my actions on Saturday night could have jeopardized members of our community and was irresponsible."
Price was hired by KU in July of 2002 and took over the Kansas program in 2003. He has won more 531 games during his time leading the Jayhawks and played a key role in several stadium renovation projects.
"I love the University of Kansas, our athletic department and baseball program," Price added in his statement. "Through my actions moving forward, I hope to regain the trust of all Jayhawks."
The news of his DUI came on the same day that the Kansas baseball program announced its 2021 nonconference slate. The Jayhawks have added 28 games to their 24-game Big 12 slate this season, starting with a four-game series against Florida Gulf Coast on Feb. 26 in Fort Myers, Fla.
KU then will play four games against Lipscomb, in Nashville, Tenn., March 5-8, before opening at home against Omaha on March 12.
KU's 2021 schedule also features two games against Missouri, at home on March 30 and in Columbia, Mo., on May 18.
According to KU's schedule announcement, a decision about fan attendance and ticketing information will be announced at a later date.