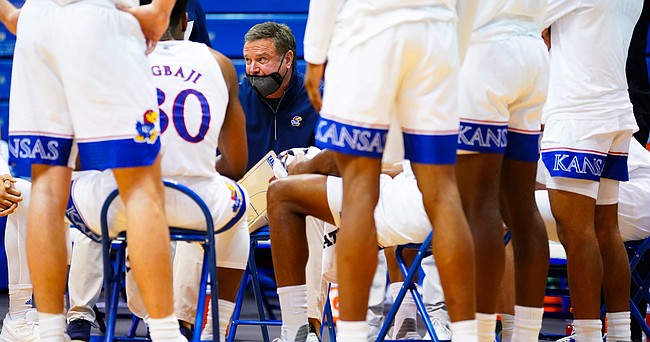 Kansas basketball coach Bill Self said Monday that he had no news on the status of the NCAA's infractions case against the program and that he expected the process to play out for several more months.
"I'm hoping there's a conclusion sooner rather than later," Self said during his regularly scheduled news conference to preview KU's upcoming game at Kansas State on Wednesday. "But I still think it'll be probably late summer or early fall."
The topic came up after Self was asked about recruiting during the pandemic.
Travel restrictions, conference and NCAA rules and general caution all have impacted the way coaches have had to recruit future talent during the past year.
But Self quickly pointed out that the challenges facing the Kansas coaching staff in that area were not any different than those faced by coaches across the country.
Where the Jayhawks find themselves in different territory, however, is in the way the looming NCAA case impacts the players Kansas has signed.
The Kansas program has been accused of multiple Level 1 violations and charges of lack of institutional control and head coach responsibility. All of the allegations carry potentially severe punishments if the ruling goes against the program. KU's case has been accepted by the newly formed Independent Resolution Accountability Process, which will investigate and rule on the charges. All rulings by the IARP are final and not subject to appeal.
Asked specifically if he thought the NCAA case, which stems from a federal investigation into corruption in college basketball that was announced in 2017, had kept KU from landing any players, Self said, "Oh yeah. No question. No question it has. Yeah. Absolutely."
Several of those players that KU targeted and was in the running for went on to sign with other blue blood programs. Earlier in the day Monday, on an appearance on the Goodman and Hummell podcast, Self told analysts Jeff Goodman and Robbie Hummell that the NCAA investigation "caught up to us right after we signed Devon's class," from the standpoint of landing elite players and top-tier recruiting classes.
That class, in 2018, included point guard Devon Dotson, Quentin Grimes, David McCormack and Ochai Agbaji, was ranked No. 3 overall by Rivals.com, and featured two top-20, five-star players in Dotson and Grimes.
The two classes that followed, in 2019 and 2020, both were ranked 14th nationally and this year's class, with signed four-star prospects K.J. Adams and Zach Clemence, as well as a commitment from three-star big man Sydney Curry, is currently ranked 23rd.
There are plenty of places that would do a lot for a class in the Top 25. But at Kansas, which typically competes for the best of the best and deals with five-star prospects and single-digit rankings, it certainly appears to be a departure from the norm.
All five of KU's signees in the 2019 class (Christian Braun, Jalen Wilson, Dajuan Harris, Tristan Enaruna and Issac McBride) were four-star players and the 2020 class featured five-star guard Bryce Thompson, along with four-star prospects Gethro Muscadin and Tyon Grant-Foster and three-star guard Latrell Jossell.
"It's been hard," Self said on the podcast. "Everybody goes through crap and nobody's going to feel sorry for us because we're going through crap. But it's been more difficult. There's been a lot of players that I think that we've been right there to get (for whom the NCAA investigation) was the deciding factor, at least based on what we've been told.
"That doesn't mean positively we would've got them. But it means positively that we didn't get them. And if you look around America those are guys that are difference makers on national contenders. So, yeah, it's hurt us."