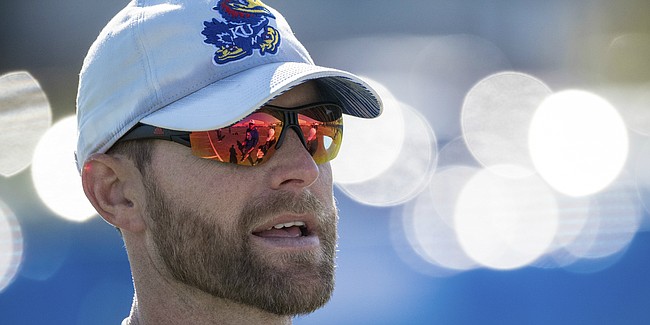 There won't be an abundance of Brent Dearmon buyout money available for Kansas football to use when it's paying the man Les Miles hired to replace his former offensive coordinator and quarterbacks coach.
According to a settlement agreement between Kansas Athletics Inc. and Dearmon, who left while under contract with the Jayhawks to become the O.C. at Middle Tennessee State, the amount the former KU assistant now owes his former employer is $400,000 less than the terms of his original contract.
The waiver and release agreement, obtained by the Journal-World through an open records request, states that Dearmon owes KAI $100,000, instead of the $500,000 buyout described in the contract he signed in October of 2019, when he took over at KU's O.C.
Without wanting to divulge any specifics, Dearmon previously told the Journal-World that "family issues" led to his decision to leave KU and relocate to Tennessee.
In the settlement, Dearmon agreed to make 24 monthly payments of $4,166.67 to KAI, beginning in May.
Document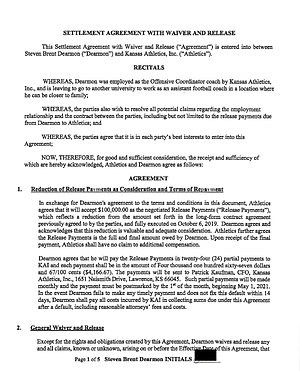 The settlement included non-disparagement terms that Dearmon must follow, stating that the former KU assistant can not "publish, directly or indirectly, any materially negative comments verbally or in writing, on social media or in any other forum to anyone about (KU, KAI) or any current or former employee of the university and/or athletics that might cause an individual to reasonably question the integrity, quality, character, competence or diligence of (KU or KAI) or its administrators, coaches, faculty and/or staff."
KU signed new offensive coordinator and QBs coach Mike DeBord to a two-year contract that will pay him $600,000 a year. Dearmon only made $250,000 a year at KU.
In a recent interview with the McKenzie Tennessee Banner, Dearmon didn't share the figures of his new salary, but said he received a pay raise to coach at MTSU.
Dearmon also told the Banner he and Miles had contrasting offensive philosophies regarding the use of fullbacks and tight ends. Dearmon, a proponent of the run-pass option offense and playing with tempo, prefers a more spread out approach schematically.
"What you see in an interview (on television) with Coach Miles is what you see in the locker room," Dearmon told the Banner. "You never know what he is going to say, but he is very patient and I learned a lot from him."