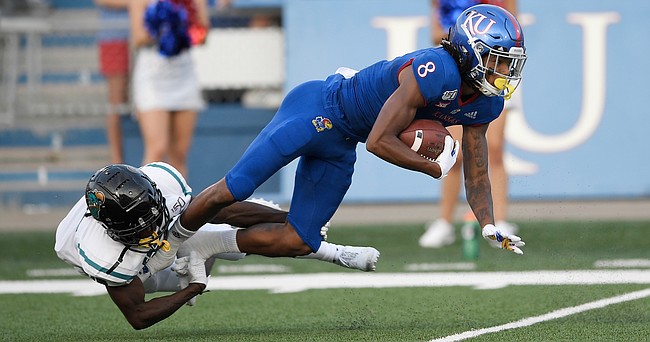 Although a number of seniors from the Kansas football program's 2020 roster decided to transfer elsewhere, the Jayhawks are set to bring back eight players for an extra senior year.
KU coach Les Miles confirmed with the Journal-World on Thursday that offensive linemen Chris Hughes, Malik Clark and Adagio Lopeti, receiver Kwamie Lassiter II, linebacker Kyron Johnson, safeties Ricky Thomas and Nate Betts and nose tackle Sam Burt decided to take advantage of the NCAA's blanket waiver and play one more season with the Jayhawks.
"There's going to be a key group of leaders," Miles said of having the veterans returning for the 2021 season.
While KU lost two of its most talented receivers, Andrew Parchment and Stephon Robinson Jr, to the transfer portal, the offense will be able to bring back Lassiter, the former KU walk-on who ended up leading the team in receiving in 2020.
During the Jayhawks' 0-9 season, Lassiter started eight games, played in all nine and finished with team-highs in catches (43) and receiving yards (458). Lassiter tied Parchment, who transferred to Florida State, and Luke Grimm for the team lead in touchdown catches, as each made two.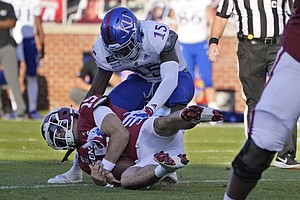 Clark, a 6-foot-3, 323-pound offensive lineman from New Orleans, was one of only three KU players to start every game in 2020. Clark opened the year at left tackle, replacing Hakeem Adeniji. But after Miles fired O-line coach Luke Meadows, Clark finished the season starting at left guard, the spot he manned the previous season, before Adeniji graduated and was drafted by the Cincinnati Bengals.
Hughes, a 6-4, 318-pound O-lineman, started the first six games up front for KU before suffering a season-ending foot injury.
The 6-4, 307-pound Lopeti started five games total, filling in at various points at center, right guard and right tackle.
New KU O-line coach Lee Grimes said earlier this week he was excited to have three "super seniors" returning from last season.
A speedy, 6-1, 223-pound outside linebacker, Johnson was the only Jayhawk to share with reporters during this past season his plans to stick with the struggling program.
"Knowing my circumstances, it's really just another person just to lead and really more along the lines of not doing it for my own well being, but for the others," Johnson said this past November. "To put KU on the map basically. We're not on the map. And people know that. It's good to say that — it's OK."
Johnson, who started eight games and played in all nine, ended up second on the team in total tackles, with 42.
That's the same number Thomas, a 5-10, 180-pound safety, made in his eight starts. Thomas also was credited with four pass breakups.
Betts, a 6-1, 204-pound safety, ended up playing a larger role for the secondary as the season progressed. In what proved to be the season finale at Texas Tech, Betts made six tackles, forced a fumble and returned a fumble 45 yards. Betts had 25 total stops on the year and started six games.
Burt, another former walk-on, started seven games and played in nine, finishing with 15 total tackles in the middle of KU's defensive line. He announced shortly after the 2020 season he would come back for a bonus year.
This coming season will mark the sixth year in the program for Lassiter, Hughes and Clark, all of whom redshirted earlier in their careers. It will be the fifth year at KU for Johnson and Burt. Lopeti, Thomas and Betts, all of whom transferred into the program, will be in their fourth year with the Jayhawks.
The NCAA determined back in August of 2020, before fall sports began, that all Division I athletes would receive an extra year of eligibility, due to the complications surrounding the COVID-19 pandemic. Athletes who are able to take advantage of this unusual extra season of eligibility won't count against their team's scholarship limits this year.
However, no senior who takes advantage of the waiver is guaranteed financial aid or a scholarship. Such decisions are up to each athletic department.
Returning KU seniors from 2020
• Kwamie Lassiter II, WR; 6-0, 171
• Kyron Johnson, LB; 6-1, 223
• Chris Hughes, OL; 6-4, 318
• Malik Clark, LG; 6-3, 323
• Adagio Lopeti, OL; 6-4, 307
• Ricky Thomas, S; 5-10, 180
• Nate Betts, S; 6-1, 204
• Sam Burt, NT; 6-4, 293
KU seniors from 2020 who entered the transfer portal
• Andrew Parchment, WR (Florida State)
• Elijah Jones, CB (Oregon State)
• Stephon Robinson Jr., WR (Northwestern)
• Kyle Mayberry, CB (Utah State)
• Denzel Feaster, LB (UTSA)
• Api Mane, senior OL
• Kyle Thompson, senior P
• Ezra Naylor II, senior WR
• Jack Luavasa, senior TE
• James Sosinski, senior TE
• Antione Frazier, senior OL (left before season began; Northern Iowa)
• Julian Chandler, senior DB