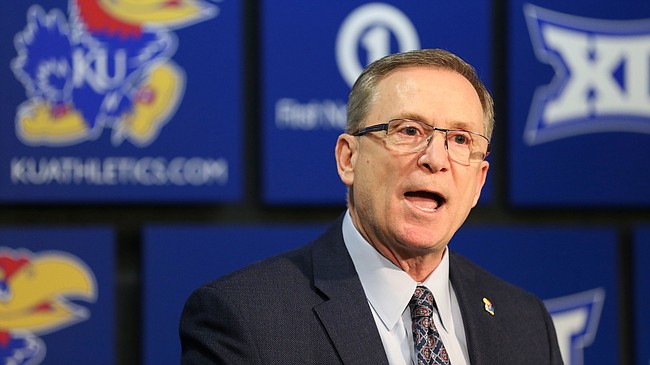 With the pandemic reducing in recent months the number of Big 12 games played in both football and basketball — as well as the number of fans in the seats — Kansas Athletics Inc. is now expecting a roughly $30 million revenue hit as a result.
KAI chief financial officer Pat Kaufman shared with board members Wednesday he's currently projecting a "best case" scenario of $70 million in revenue for the fiscal year, after KAI projected months back that number could come in at a little more than $100 million.
Instead of KAI benefiting from the Big 12 distributing almost $38 million its way, the current "best guess" estimation, Kaufman shared, is that figure will be closer to $23 million, because of there being fewer football and basketball games on television and fewer sponsorships.
KU football, in a typical year, would've played 12 games. But in 2020, with a 10-game schedule, the Jayhawks only were able to get in nine. KU, Oklahoma, Texas and West Virginia only played eight conference games due to COVID related cancellations, while the rest of the league played nine.
In Lawrence, KAI also lost out on ticket revenues from both football and basketball games, with attendance limited due to the pandemic. The latest projections, Kaufman said, places combined ticket sales money for the two sports at roughly $13-14 million below previous expectations.
Projections for men's basketball fell from $13.7 million to $2.3 million. Football's projected ticket revenue dropped from $4.2 million to $519,000.
Through some reductions, cuts and furloughs this fiscal year, KAI anticipates it will operate with about $89 million in expenses. Kaufman said KAI is projecting a $13 million deficit with its budget as a result, with the previous year's surplus providing a $5 million boost.
Kaufman noted KAI encountered some "organic savings" with KU teams not traveling as much since the resumption of competition. Between that and programs not spending unless it is necessary, Kaufman said KU got rid of somewhere between $11-12 million in expenses.
At some point, he added, KAI will likely need to use some of its previously established credit line for cash flow relief.
KU Athletic Director Jeff Long called the current situation "painful," but added that coaches and staff within the athletic department have dealt with it head on.
"This is not a one-year problem," Long said, sharing KU teams will have to take further reductions in travel in the near future, as well. "We have our work cut out for next year."