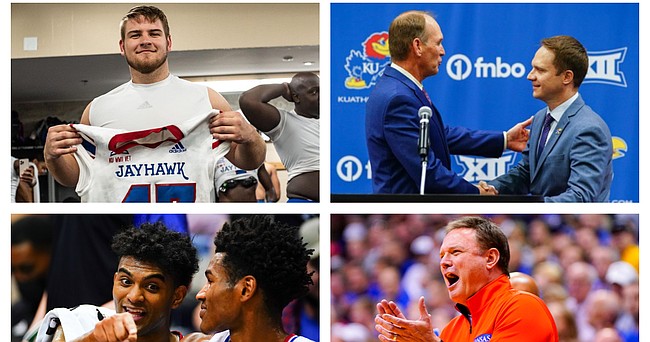 It was another wild and unpredictable year in KU sports in 2021, with upsets, debuts, memorable moments and incredible individual performances dominating the landscape.
As we prepare to turn the page to 2022 and begin to look ahead to all that's in store for the coming year, here's a quick look back at the top 10 sports stories in Kansas athletics from the past 12 months.
1 – Jared Casey 2-point conversion catch to beat Texas
While the catch itself led to a 57-56 upset of the mighty Longhorns in Austin, Texas, the aftermath was even more incredible. The reserve tight end's improbable grab on the final play of the game not only delivered a KU win but it also turned Casey into a cult hero and immediately made him a star. The Plainville native who came to KU as a walk-on backed up his play with a few more good games after this one, but his catch to beat Texas will be remembered in Kansas football lore for decades to come.
2 – Goff & Leipold in, Long & Miles out
It was a true changing of the guard for Kansas Athletics in 2021, with new athletic director Travis Goff being hired in April and head football coach Lance Leipold joining the Jayhawks in May. That duo replaced Jeff Long and Les Miles, who both left KU amid controversy after an embarrassing stretch of failed endeavors on and off the playing field. Goff's hiring brought the return of a Jayhawk to the top spot in the athletic offices. And his hire of Leipold brought the foundation of legitimacy, rooted in hard work and a no-frills approach to the football program.
3 – KU coach Bill Self inks lifetime contract
There was never reason to believe he was going anywhere, but the lifetime contract signed by Self in April made it clear that the Hall of Fame coach plans to be around for a long time. Technically a five-year rolling contract that adds another year at $5.41 million after the completion of each season, the contract, executed by interim AD Kurt Watson, ensured that Self would be the coach of the Jayhawks for as long as he'd like. Language in it saying KU will not terminate Self for cause for any current infractions matter further cemented his future as the Jayhawks' head basketball coach.
4 – Changing college sports landscape
Whether your thing is conference realignment, athletes getting paid or transfers being free to roam, 2021 delivered it all and it figures to go down in history as one of the most significant years in the modern era of college athletics. Athletes began capitalizing on Name, Image and Likeness deals on July 1. The transfer portal — in and out — became as popular as any recruiting site out there. And the surprise departure of Oklahoma and Texas to the SEC and the Big 12 moving quickly to replace them with BYU, Cincinnati, Houston and Central Florida made 2021 one historic year.
5 – More COVID craziness
Although it first surfaced in 2020 with the cancellation of the 2020 NCAA Tournament, the COVID-19 pandemic continued to wreak havoc on KU sports and the school's athletic department throughout 2021. Games were played inside Allen Fieldhouse with capacity limits and masks. The 2021 NCAA Tournament was played in a bubble-type setting in Indianapolis. And, in December, three different KU contests were canceled or postponed in a week's time creating scheduling chaos. Other 2021 sports at KU felt the impact of the pandemic, as well, but the impact elsewhere was not nearly as visible as it was with the men's basketball program.
6 – Border War rivalry renewed
After avoiding each other on the hardwood for nearly a decade following Missouri's defection to the SEC, Kansas and Missouri hooked up again at Allen Fieldhouse on Dec. 11. The Jayhawks routed the Tigers that day, but the week leading up to it brought back a flood of anticipation, memories and nostalgia for what was once one of the greatest rivalries in all of college sports. It's worth noting that KU baseball and softball each won one-run games over the Tigers in 2021, as well.
7 – Kansas volleyball reaches Sweet 16
Thanks to a strong finish to the regular season, Ray Bechard's squad earned a spot in the NCAA Tournament for the 10th time in program history and the first time since 2017. Just getting there was hardly enough, though. Once in, KU knocked off ranked teams Oregon and Creighton en route to their third Sweet 16 appearance in program history. Led by a young core featuring honorable mention All-American Caroline Bien and freshman setter Camryn Turner, the Jayhawks appear to have the makings of a good run ahead of them and 2021 could go down as the year that started it.
8 – KU guard Ochai Agbaji returns for senior season
He spent a few monhts wrestling with the decision whether to turn pro or return to Kansas, and in July announced he was coming back. After a trip to the NBA's pre-draft combine, where he learned that he needed to be more assertive, Agbaji fully committed to his craft and the 2021-22 team, taking over as team leader and top dog. He scored a career-high 29 points in a season-opening win over Michigan State and spent parts of the nonconference season as the nation's leading scorer. The smooth scorer from nearby Oak Park High in Kansas City also continues to move up KU's all-time lists for scoring, 3-pointers and consecutive starts.
9 – Point guard Remy Martin transfers to Kansas
Although he was just one of 10 new faces added to the Kansas roster by Self in the offseason, Martin's pedigree and status as one of the top scoring point guards in the nation immediately changed the outlook for the 2021-22 Kansas basketball season. In addition to bringing a bona fide scorer who possesses the clutch gene to Lawrence, Martin's addition brought the kind of energy and sideshow antics that had been missing at Allen Fieldhouse in recent years. Whether succeeding or failing, executing well or scrambling to survive, Martin is hard to take your eyes off of on game night. And the blending of his personality with Self's expectations already have made for good theater this basketball season.
10 – KU men's golf catches fire
Jamie Bermel's squad went nuts this fall, winning four consecutive stroke play tournaments to build some serious momentum for the spring season. KU's fourth title, which came in Maui, marked the program's lowest 3-round score since the 1986-87 season. The four stroke play tournament titles tied for the most in program history in a single season and the Jayhawks still have five tournaments to play this spring. Led by sophomore Luke Kluver, who played all 15 rounds of the fall at even par or better, the Jayhawks also got key contributions from seniors Harry Hillier and Ben Sigel, transfer Callum Bruce and sophomore Hank Lierz.