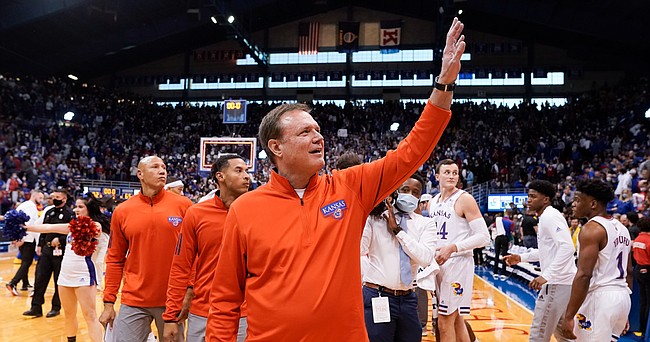 Facing an opportunity to watch Kansas basketball in person for ticket prices as cheap as they've been since his arrival in 2003, Kansas coach Bill Self expressed confidence in KU fans' ability to show up for Saturday's newly scheduled game against George Mason at Allen Fieldhouse.
Shortly after the sixth-ranked Jayhawks clobbered Nevada, 88-61 on Wednesday night, Self was asked if he was worried about the Jayhawks' 324-game consecutive sellout streak, given the late addition to the Jayhawks' schedule.
On top of having a little more than 48 hours to sell tickets for the George Mason game, Saturday is New Year's Day and the weather forecast is calling for extremely cold temperatures and winter weather.
Official records show that every home game in Self's 19 seasons at Kansas has been a sellout.
Photo Gallery
Kansas basketball v. Nevada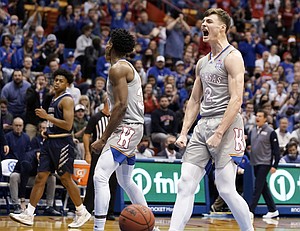 View a gallery from Wednesday night's game between the Kansas Jayhawks and Nevada Wolfpack at Allen Fieldhouse.
After acknowledging that the KU marketing team could get creative with wording and asterisks to keep the streak alive if the building is not full on Saturday, Self categorized all of the obstacles as "excuses" and said his expectation was for Allen Fieldhouse to be full and rocking again this weekend.
"There could be crappy weather. It will be cold. That's just another excuse," Self said, noting that ticket prices for the GMU game range from $15-$25. "The best fans in America have to deliver when they're called. I think our fans would expect us to play well on Saturday regardless if it's cold or not or regardless if it's a cancellation (game). So we expect our fans to purchase and we expect them to be here. Because that's what the best does."
In years past, KU's sellout streak has lived on even if the building was not been completely full because of season-ticket packages. Bad weather has impacted attendance at a handful of games during that time, but the games still went down as sellouts because the tickets were sold. But with the George Mason game being a late addition and, therefore, not part of the season ticket package, it will be up to Kansas fans near and far to purchase all 16,300 tickets to keep the streak alive.
KU donors were given the first opportunity to purchase tickets, beginning at 1 p.m. on Wednesday. Tickets for the general public went on sale beginning at noon on Thursday through the KU ticket office.
"It'll be a great opportunity for those who maybe haven't had the opportunity to come watch us in person to come watch us," Self said. "I'm excited about it."
In addition to the relief of simply getting a game scheduled to replace what was supposed to be the Big 12 opener against TCU, Self said he was looking forward to the chance to welcome George Mason coach Kim English back to Allen Fieldhouse, as well.
Now in his first season with the Patriots, English played his college basketball at Missouri and, in 2012, was a part of what Self has called the best game at Allen Fieldhouse in his time with the Jayhawks.
"I'm sure Kim will have his guys juiced, jacked and ready to go, in large part because it means something extra to him," Self said. "You know, even though he coaches at George Mason, he's a Tiger playing Kansas. And so that should make it more fun also."
George Mason enters Saturday's game at 7-5 overall and riding a three-game winning streak. That record includes wins over Penn, Maryland and Georgia.
Tipoff is slated for 4 p.m. on ESPN+.