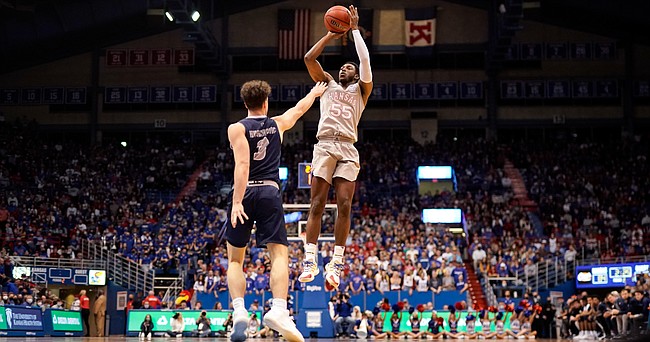 With so many games canceled or postponed in the last 10 days and the COVID-19 pandemic ripping through college basketball programs from coast to coast, Kansas basketball coach Bill Self said he and his staff have tweaked part of their practice routine in recent weeks.
"I don't think we've done much to change anything other than when we practice, we probably don't practice with just five or six on the first team," he said. "We try to slide as many people into that situation so there is a little bit more of a comfort level."
Self compared the situation to football by saying it was like "making sure your second team gets first-team snaps."
"We're trying to do that as much as we possibly can," he added.
On Wednesday, during an 88-61 win over Nevada at Allen Fieldhouse, the Jayhawks played 13 players, including walk-ons Chris Teahan and Michael Jankovich.
Outside of sophomore Jalen Wilson, who has settled into his role as this team's sixth man, no one from KU's bench did much.
While Wilson delivered 7 points and 10 rebounds in 21 minutes, the rest of the group combined for 6 points and 6 rebounds in roughly 36 minutes.
After the victory, Self discussed the idea of shortening the bench in the future if the KU reserves were not going to produce more than that. And, during Wednesday's first half, he showed what that might look like.
As KU's first substitution, Wilson went in for starting guard Dajuan Harris Jr. a the 13:49 mark of the first half. Senior forward Mitch Lightfoot went in for David McCormack at the 12:38 mark and Jalen Coleman-Lands subbed in for Ochai Agbaji at the 10:39 mark.
Agbaji (18:26), Harris (18:47) and Christian Braun (19:09) played nearly the entire first half, with McCormack and Remy Martin playing 11:37 and 12:59, respectively.
The lopsided nature of the second-half score allowed Self to hand out more minutes to his reserves, but all but one of them — freshman forward KJ Adams — finished in negative numbers in the plus/minus category.
Pettiford update
Kansas coach Bill Self said this week that injured freshman Bobby Pettiford was still working through the strained abdominal injury that has kept him out of the lineup for the past handful of games.
"He's still doing the same thing, which is almost nothing right now," Self said. "He's doing spot shooting and very little things like that. It's got to run its course before we can really test that."
Initially expected to be out 4-5 weeks on Dec. 6, Self said that timeline could still hold if all goes well in the days ahead.
"As of right now we've still got a couple weeks to go before we'll know if we can put him out there and have him be pretty much pain free," Self said.
The 6-foot-1, 190-pound combo guard from Durham, N.C., has appeared in seven games for the Jayhawks so far, averaging 11.4 minutes per contest.
Mask recommendation
Wednesday's game marked the third home game of December for the Jayhawks and it featured a mixture of masked and unmasked fans in the stands.
Two weeks ago, KU updated its mask policy for men's and women's basketball games at Allen Fieldhouse from a requirement to a "recommendation" and the policy current states that "guests are still highly encouraged to properly wear a mask when not actively eating or drinking. This is especially true for unvaccinated individuals, including children ages 2 years and older."
In addition to the policy, the public address announcer on a couple of occasions reminded fans in attendance that masks were "strongly encouraged" at the game.
Big 12 openers on tap
Although the Jayhawks will be playing George Mason instead of TCU on Saturday, six other Big 12 programs are slated to tip off conference play on Saturday.
No game will be bigger than No. 1 Baylor (12-0) battling unbeaten and eighth-ranked Iowa State (12-0) at Hilton Coliseum in Ames, Iowa.
In other Big 12 openers, West Virginia (11-1) will travel to Austin, Texas, to take on No. 17 Texas (10-2) and Oklahoma (10-2) will play host to Kansas State in Norman.
Self said this week that the Big 12, on paper, was "better than we've ever had; and we've had some great ones."
According to reports from Austin, Texas coach Chris Beard, whose team was picked to finish second in this year's preseason coaches poll, said Wednesday that the preseason favorite was still the team to beat.
"Baylor is obviously (playing) well right now," Beard said of Scott Drew's top-ranked and defending champion Bears. "But, to me, the championship goes through Lawrence, Kansas until otherwise said."
This and that…
Wednesday's win improved the Jayhawks to 10-1 or better for the ninth time in Self's 19 seasons… Kansas now leads the all-time series with Nevada, 5-2, including a 3-1 mark at Allen Fieldhouse… KU has now won 24 consecutive games at Allen Fieldhouse against nonconference foes, improving to 138-5 in those games under Self… KU is 5-0 at home this season… In addition to the former KU players on Self's staff in the building, KU alums Jeff Graves, Steve Woodberry, Travis Releford, Tyrel Reed and Sherron Collins were in attendance on Wednesday night… Class of 2022 KU signee Gradey Dick also attended the KU-Nevada game.