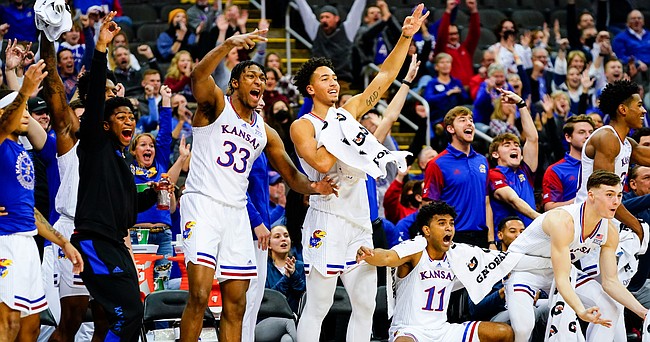 Nine years after he last played in Allen Fieldhouse and a few weeks after his alma mater made its return, former Missouri Tiger Kim English is leading a program back into Kansas for a date with the Jayhawks.
KU officials announced Wednesday afternoon that KU will play English's George Mason squad at 4 p.m. Saturday.
The game was scheduled as a replacement for sixth-ranked Kansas' postponed Big 12 home opener against TCU, which had to pull out because of COVID-19 issues within the Horned Frogs program. No makeup date has been announced for the KU-TCU game, but the Big 12 Conference is working on rescheduling it.
The KU-George Mason game will mark the first ever meeting between the two programs and will be televised by ESPN+.
George Mason is currently 7-5 this season. The Patriots have won three consecutive games, including a 68-44 win over American in their most recent game on Dec. 21.
GMU also boasts wins over Penn, Maryland and Georgia. Interestingly enough, English's team lost to Nevada — Wednesday's rescheduled KU opponent — 88-69 on Nov. 23 in the Sanford Pentagon Crossover Classic.
Like KU, which had games with Colorado, Harvard and TCU impacted by COVID in the past eight days, George Mason, which remains COVID-free, had games against Coppin State and Wisconsin canceled and its Atlantic-10 conference opener against VCU on Thursday postponed because of the pandemic.
GMU's A-10 game at Duquesne, originally scheduled for Jan. 2, already has been postponed because of COVID-19 protocols within the Dukes program. The KU game already appeared on George Mason's official schedule as of 12:30 p.m. Wednesday.
According to a Kansas Athletics news release announcing the game, single-game tickets must be purchased specifically for the George Mason contest.
An exclusive pre-sale event for current KU season ticket holders will be conducted from 1 p.m. Wednesday through noon on Thursday.
The general public will be allowed to purchase any remaining tickets beginning at noon on Thursday at www.kuathletics.com/tickets.
General admission tickets will go for $15 apiece, with tickets in Tiers 6-8 costing $20 apiece and those in Tiers 1-5 priced at $25 per ticket. KU students who redeemed their tickets for the TCU contest will have the George Mason game automatically added to their accounts.
Parking for the George Mason game will be available on campus for free on a first-come, first-served basis.