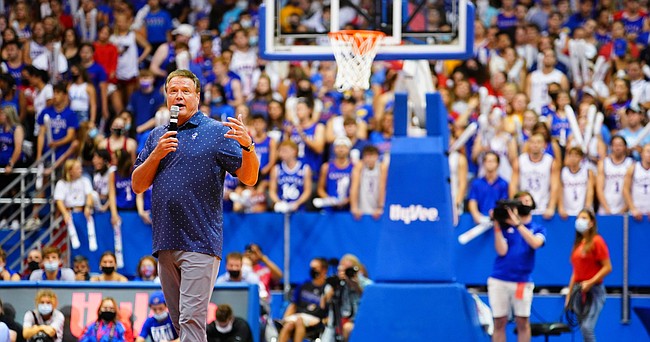 Kansas basketball coach Bill Self said Tuesday that odds were good that the sixth-ranked Jayhawks would be playing on Saturday after all.
"I think that's a very strong possibility," Self told a group of reporters while previewing Wednesday's clash with Nevada.
On Monday, KU (9-1) was forced to postpone its Big 12 home opener with TCU, scheduled for this Saturday, because of COVID-19 issues within the TCU program.
But Self said the Jayhawks were looking into lining up a replacement for the Horned Frogs so KU could play another game, noting that it would be a nonconference opponent if anybody.
"Hopefully we'll have another announcement real soon on another game Saturday," he said Tuesday. "I think we'll play Saturday. I don't know that for a fact, but we're working on it."
As of today, the Big 12 Conference is looking into rescheduling the TCU game for a later date that works for both programs.
With more cancellations possible — perhaps even likely — in the weeks to come, finding a date that works could be difficult.
Asked Tuesday if he thought Big 12 teams playing a full conference slate of 18 games this season was realistic, Self said he thought it was for some teams.
"I think last year probably prepped us for this," Self said. "I think that rolling with it, playing three games in a week, I don't think coaches will look at is as much advantage/disadvantage as they will, we just need to get the games in."
Self said last year many teams still were worried about jockeying for position in the standings and not interested in playing if it put them at a disadvantage and could impact their NCAA Tournament seed or record.
This year, he thinks people are much more focused on playing as many games as possible, both for the return to normal that that brings and to avoid the negative financial impact of not playing.
"If you can put a team out there, I think people will put a team out there," he said. "And the way this thing is going, I just don't see there's going to be very many (days) where you can't get six healthy guys. … I think everybody is going to want to get the games in."
The current Big 12 Conference threshold for competition says that teams must have six healthy players and one healthy coach to compete.