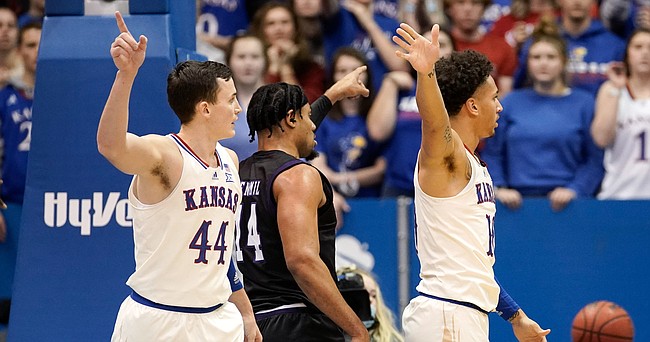 Although their time to prepare was cut short because of the last-minute nature of scheduling the game, the Kansas Jayhawks are well aware of the size of the challenge Nevada will present on Wednesday night at Allen Fieldhouse.
With two legitimate big men in the Wolf Pack starting lineup, Kansas coach Bill Self said the Jayhawks' front court would play a key role in the Jayhawks' latest clash with Nevada.
"It'll be a little different than we've had in most of our games," Self said Tuesday. "This is going to be legitimate sizes for their respective positions. (It'll be a challenge for) all of our bigs. They're going to play two legitimate 6-11, 7-foot guys and they have other guys that have kind of been the 5 man size that we've been playing against playing the 4."
Tipoff is slated for 7 p.m. on ESPN+ and fans who had tickets for the previously scheduled Harvard game will be able to use those same tickets for admittance.
Self said senior forward David McCormack would draw the bulk of the burden for handling what redshirt sophomore Will Baker (7-foot, 245 pounds) and junior Warren Washington (7-foot, 215 pounds) throw at the Jayhawks. But McCormack will not be asked to battle the Nevada bigs by himself.
"Dave will be important," Self said. "But so will Mitch (Lightfoot) and Zach (Clemence) and K.J. (Adams). To this point we haven't played two bigs and I'm hoping we don't have to because if they do play two bigs one of them will be on the perimeter the majority of the time so maybe we can play up under that guy. But it'll be a challenge for our bigs."
Lightfoot said it was one the sixth-ranked Jayhawks (9-1) were looking forward to facing.
"It's definitely become almost a little bit non-traditional now," the 6-foot-8, 225-pound KU senior said of facing two true big men on the floor at the same time. "But it's a good challenge for us. Obviously, we've got to go out there and play good ball, play smart (and) can't get in foul trouble early against teams that have those big guys."
The Wolf Pack are about much more than their big men, though.
Wichita State transfer Grant Sherfield leads Nevada in scoring at 20 points per game and he is often looked to as both a play maker for others and a go-to scorer when the Wolf Pack need a bucket.
"Really good scorer, really active, really good athlete," KU senior Ochai Agbaji said of Sherfield. "So we're going to have to key on him and some other guys, too."
Lightfoot and Self both said the Jayhawks had plenty of time to throw together a quality game plan for Nevada. But with the game being added a little more than 48 hours before tipping off, both also said the Jayhawks would lean more on the self-improvement they worked on during the holiday break.
"It's not enough to throw us for a loop," Lightfoot said. "It's kind of business as usual. We'll learn as much as we can about them, obviously. It's a quick turnaround. We'll figure them out. But we've got to figure out ourselves first."
Probable Starters
No. 6 Kansas
G – Dajuan Harris, 6-1, 180, Soph.
G – Remy Martin, 6-0, 195, Sr.
G – Ochai Agbaji, 6-5, 210, Sr.
G – Christian Braun, 6-7, 205, Jr.
F – David McCormack, 6-10, 265, Sr.
Nevada
G – Grant Sherfield, 6-2, 189, Jr.
G – Desmond Cambridge Jr., 6-4, 180, Sr.
G – Kenan Blackshear, 6-6, 215, Jr.
F – Warren Washington, 7-0, 215, Jr.
C – Will Baker, 7-0, 245, RS-Soph.