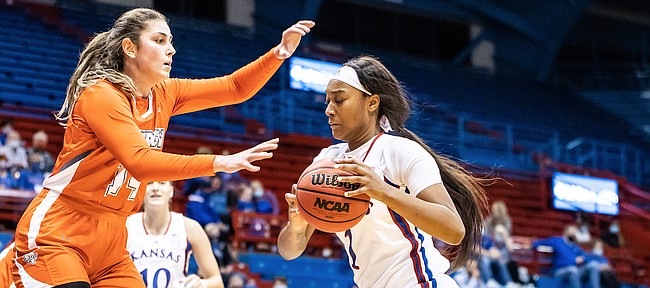 After racing out to a 9-1 start — with the only loss coming to No. 7 Tennessee on a neutral floor — the Kansas women's basketball team is ready for its final tune up before the start of Big 12 Conference play.
On Tuesday night, KU will welcome Northwestern State to town for a 7 p.m. tipoff at Allen Fieldhouse.
The Jayhawks are 7-0 at home so far this season and 2-1 in games played away from their home court.
Kansas is currently ranked No. 35 in the NCAA Tournament Evaluation Tool (NET) rankings, which puts Brandon Schneider's team as the fifth highest ranked Big 12 program by that measure.
While the Jayhawks have been largely balanced on offense, their defense deserves the credit for their hot start.
Junior forward Taiyanna Jackson has been a difference maker in the paint, recording 22 blocks in 10 games. The transfer also ranks second on the team with 18 steals.
In KU's most recent win over Wichita State, Jackson was one bucket shy of reaching double digits in scoring for the fourth consecutive game. But she managed to impact the game in other ways, recording four blocks and nine rebounds. During KU's four games in December thus far, Jackson is averaging 12.3 points, 6.8 rebounds, 2.7 blocks and 1.8 steals per game while shooting 70% from the floor.
At 9.4 points per game, Jackson is currently KU's fourth leading scorer behind Holly Kersgieter (12.7), Aniya Thomas (11.3) and Zakiyah Franklin (10.1).
Sophomore guard Chandler Prater also has come on of late, making three starts, including a 14-point outburst in a recent win over Santa Clara.
Six different Jayhawks have started games so far this season and nine players are averaging double-digit minutes, with three more playing 8 or 9 minutes per game.
Northwestern State comes to Lawrence at 6-4 on the season. The Lady Demons have won three of their last four games. Prior to that stretch, they suffered back-to-back road setbacks at Kansas State (70-36) and Wichita State (70-61).
Kansas and Northwestern State have played just twice in a series that dates back to the 1983-84 season. The two programs split a home and home series, with Kansas winning, 74-73, on Nov. 19, 1983, in Lawrence and falling, 79-63, on Dec. 4, 1985. in Natchitoches, Louisiana.
After Tuesday's game, the Jayhawks will begin what they hope will be a mad dash toward the postseason with their first of 18 Big 12 games at 1 p.m. Sunday at TCU in Fort Worth, Texas.
KU opens Big 12 play with three of its first five conference games at home. Two of those first five conference contests come in back-to-back games at No. 12 Texas (Jan. 12) and home versus No. 10 Baylor (Jan. 16). Prior to that, on Jan. 8, the Jayhawks are slated to play host to Oklahoma, which currently is the top team receiving votes in the latest Associated Press women's basketball poll.