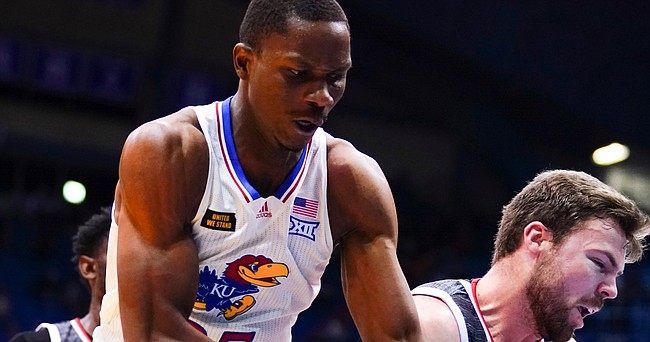 Former Kansas forward Gethro Muscadin is on the move once again, according to reports out of New Mexico.
Multiple reports from outlets that cover the University of New Mexico men's hoops program reported over the weekend that Muscadin recently left the program.
"We spoke after SMU, and I think we both agreed it wasn't the right fit for him," UNM head coach Richard Pitino told KRQE.com. "We wish him nothing but the best. Hopefully we can help him find a spot that is the right fit for him, and we'll help him with whatever we can moving forward."
Like Muscadin, Pitino is in his first year as the Lobos head coach.
The 6-foot-10 native of Haiti transferred to Mexico after electing to leave Lawrence following his true freshman season at KU. He was one of five underclassmen on KU's 2020-21 roster who transferred to a new school after last season.
In 12 games so far this season, Muscadin was averaging 9.3 points, 5.3 rebounds and 1.6 blocks per game. He was the team's fourth leading scorer and had started nine of the 12 games in which he played.
He played just eight minutes and did not start in a 90-72 loss to SMU on Dec. 19, one game after starting and playing 26 minutes in a home loss to UTEP. New Mexico is 6-6 so far this season.