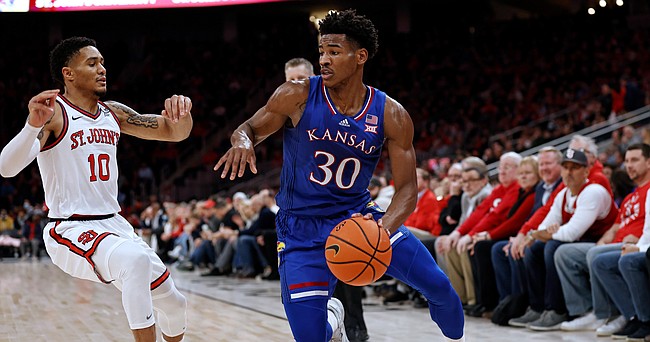 For the second consecutive season, the Kansas men's basketball team's regular season schedule figures to come up short of its originally scheduled total of games.
A year ago, the Jayhawks — and the rest of college basketball — powered through changes brought about by the COVID-19 pandemic, which created pauses, cancellations and rescheduled games from start to finish.
This season, with vaccines making planning easier, the Jayhawks played their first 10 games without incident but saw Game No. 11 get canceled when Colorado's men's basketball program fell victim to multiple positive COVID-19 tests within its program.
The seventh-ranked Jayhawks (9-1) learned of the cancelation roughly two hours before last Tuesday's tipoff in Boulder, Colorado. With winter break and the start of the Big 12 Conference schedule up nexts, KU coach Bill Self said was unsure whether the Jayhawks automatically would add a game to make up for missing out on the contest with the Buffs.
"I don't know how we'll do that right now," Self told reporters at the team hotel in Boulder on Tuesday night.
A KU spokesperson said Tuesday night, in the immediate aftermath of the cancellation, that the KU-CU game would not be rescheduled this season.
However, the good news associated with KU potentially making up the missed game at all is that there are no requirements tied to who the opponent could or could not be.
"This doesn't have anything to do with home or away," Self said Tuesday. "We could play Washburn. We could play anybody. Last year we got UTEP. We could play whoever."
The biggest obstacle that comes with replacing the game is timing. Last season, with the pandemic raging at the outset of the schedule, conferences around the country — including the Big 12 — cut the nonconference season a little short and built an extra week into the schedule at the back end for makeup games.
No such week before the conference tournament exists this season, meaning KU would have to add an opponent into its existing slate of games if the school elects to make up the game.
"There will be other games canceled moving forward," Self said. "And maybe if we play a Saturday, Monday, Saturday, maybe (we could) fly somebody in on Wednesday or Thursday. There will be opportunities like that if that's what we want to do. It might not be smart during conference play either."
With Self headed to Texas to spend the holiday with his family, KU assistant coach Kurtis Townsend filled in for him on Hawk Talk earlier this week.
The veteran KU assistant said he did not think Kansas would add a game to its schedule to make up for the missed opportunity at Colorado.
"I don't think that one will be replaced," Townsend said. "Now, if something happens with the (home) game against Harvard the 29th, that gives us some time to find somebody else who is supposed to play on the 29th who had a game. We could squeeze one in there."
As of today, KU's next scheduled game against Harvard at 7 p.m. Wednesday at Allen Fieldhouse is still on. Harvard played its last game before Kansas on Tuesday night and moved to 8-4 on the season with a 77-69 victory over Howard.
The Crimson made it through that game unscathed and, like Kansas, took a few days off for winter break following the victory.
The fact that Harvard got through its most recent game certainly qualifies as a good sign for Kansas to return to its regular schedule next week. But it's worth noting that the Ivy League was the first in college basketball to cancel its post-season tournament when the pandemic first hit in March of 2020.
Regardless of what the immediate future holds, Townsend said he thought the demanding nature of KU's Big 12 schedule would make it awfully tough for the Jayhawks to add another game to the schedule in the weeks to come.
"I think once we get to TCU on New Year's Day, we'll have two games a week the rest of the way and we've got Kentucky smashed in there toward the end of January," Townsend said. "We would have to play three games a week one time to do it. I'm not sure if we will unless other games get canceled like what happened last year."
After a few days off for the holidays, the Jayhawks are slated to return to campus on Dec. 26 to begin preparations for Harvard. Townsend said KU currently is slated to practice at 7 p.m. on the 26th.