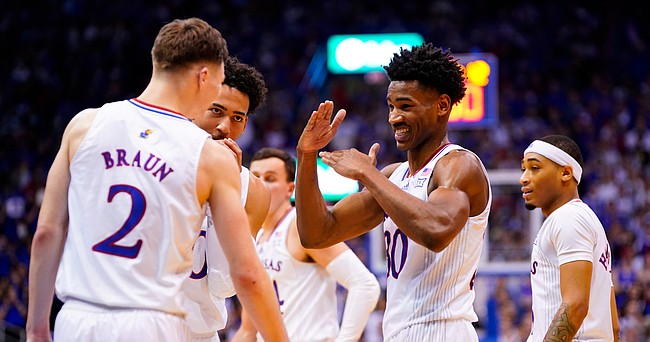 When asked in Boulder, Colorado, to identify KU's most valuable player through 10 games, Kansas basketball coach Bill Self needed no time to come up with his answer.
"I would say Ochai (Agbaji's) probably been our best player to date, with CB (Christian Braun) coming in second so far," Self said. "I think that's pretty obvious to everyone."
One of those two KU veterans leads the Jayhawks in seven major statistical categories and the two sit atop KU's list of scoring leaders thus far, with Agbaji leading the way at 22 points per game and Braun not far behind at 16.8.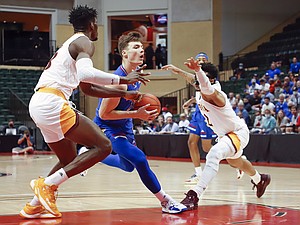 While those numbers, along with their leadership and clutch production made those two Jayhawks easy choices for Self, there are others outside of the Kansas basketball circle who have heaped praise on Agbaji and Braun, as well.
One such person is The Athletic's Sam Vecenie, who covers the NBA draft process as well as anybody, and he believes that Agbaji and Braun have played their way into a little more attention from NBA scouts and general managers.
Last weekend, Vecenie released his list of seven college basketball upperclassmen who have delivered breakout-type seasons so far that have put them firmly in the NBA draft conversation. Both Agbaji and Braun were on that list.
Vecenie called Braun "one of the true breakout players of the season."
Rather than looking only at Braun's raw averages — 16.3 points, 6.8 rebounds and 2.8 assists per game on 62.1% shooting — Vecenie went a little deeper and highlighted some of the numbers and skills that might best help Braun transition to the NBA game.
Six of his 16.3 points per game are coming in transition. As Vecenie noted, Braun has made a point of getting out on the break early and his teammates have done a good job of finding him.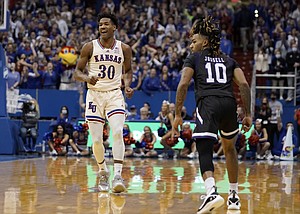 Beyond that, Vecenie pointed out that the junior from Burlington ranks fourth among all wings in college basketball in points off of cuts, averaging 1.5 makes per game off of cuts.
That might not sound like a ton, but that approach has led directly to several of Braun's highlight-reel dunks and, more importantly, has made him and the Kansas offense more efficient.
"The most translatable skill he's started to present is the ability to attack more off closeouts," Vecenie wrote. "Teams are closing out on him hard, and Braun is playing with great bend to make it look like he's a threat to shoot before attacking."
So far this season, Braun is shooting 36% from 3-point range, but his attempts are down from where they were at this point a season ago.
The analytics illustrate that clearly. Per KenPom.com, Braun ranks in the top 30 nationally in effective field goal percentage (67.3, 27th), which gives more weight to 3-point makes, true shooting percentage (69.3, 22nd), which also factors in trips to the free throw line, and 2-point field goal percentage (73.1, 15th).
While those numbers and his emphasis on returning to his roots as an attacking offensive weapon, have made him a dynamic college player, Vecenie predicts that Braun's NBA fu-ture will be tied most to his outside shot.
"Ultimately, Braun's career will be determined by how elite a level he can get to as a shooter," Vecenie wrote. "Right now, I see Braun as more of a potential second-rounder. Braun has put himself on the map for scouts in a significant way that they'll have to pay attention to as Big 12 season rolls on. If Braun can put up a huge Big 12 shooting season, he'll be a potential 2022 draft guy."
Agbaji was the first player Vecenie mentioned on his list.
"Ochai Agbaji has been among the players I have been most impressed with in college basketball this season," Vecenie wrote. "The game has clearly slowed down for Agbaji. He's more confident and comfortable."
Much of Vecenie's praise of the KU senior and one of college basketball's top scorers comes in comparison to what he was last season.
Like many people, Vecenie has always admired Agbaji's athleticism, effort and shooting stroke. But now that the 6-foot-5 senior who nearly left KU for the NBA last season has added more layers to his game, Vecenie is downright excited about Agbaji's NBA future.
"Agbaji, especially out in the semi-break, is making plays with ease with the ball in his hands," Vecenie wrote. "There is no panic and his footwork is stronger. He's a professional playing college basketball now. Throw in that he's a good defender on the wing with the quickness and strength to be able to deal with a variety of different player types, and it's kind of an easy fit for a modern NBA role."
Vecenie calls Agbaji "a clear first-rounder on my board" and said he currently sees him as a top 20 pick in the 2022 draft.
While getting to that level was the main reason Agbaji returned to school, winning at the highest level and adding to his already solid legacy as an all-time great Jayhawk are added bonuses that Vecenie believes are in reach.
"(Agbaji) has transformed his game from "good, all-Big-12-level" player to "potential national player of the year candidate" if he keeps up this play," Vecenie wrote.