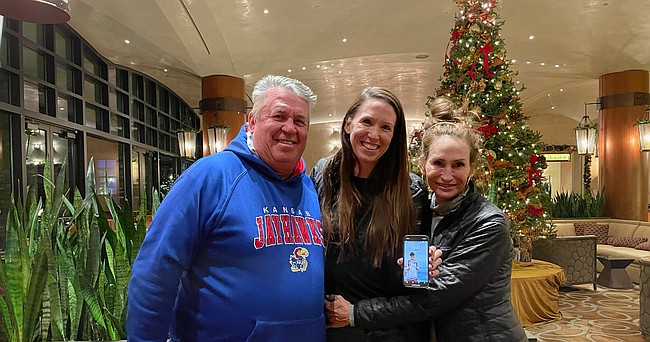 Boulder, Colo. — Huddled around a high-top bar table in the lobby of the St. Julien hotel in downtown Boulder, three Kansas natives and KU basketball fans sat and discussed a wild night during their latest adventure to honor one of their family members.
Decked out in a crimson and blue KU hoodie, Tony Gourlay, now of San Diego, was joined by his ex-wife, Jillian James, and their adult daughter, Sydney Gourlay, on the back end of their annual trip to see the Denver Broncos play in honor of their son, and Sydney's brother, A.J. Gourlay.
A diehard Broncos fan and former Marine, A.J. took his own life a few years back. To honor his memory, the trio has joined together to attend a Broncos game each year since his passing. This year, they had the added bonus of tossing a Kansas basketball game into the mix, with Denver playing at home last Sunday and the Jayhawks scheduled to play in Boulder two days later.
One problem: The KU game never happened. Multiple positive COVID-19 tests within the Colorado Buffaloes basketball program forced the game to be canceled. But, as luck would have it, that decision came shortly after Tony, Jillian and Sydney made the decision to sell their tickets and not go.
The reason? Tony's 89-year-old mother back in Kansas just contracted salmonella poisoning. And with the family headed back to Kansas after what was supposed to be Tuesday's KU-CU game, they did not want to run the risk of contracting COVID and bringing it back to Tony's mother.
"We were very sad not to go to the game," Sydney said. "It was definitely a bummer when we decided it was the right decision not to go, but it worked out."
While her daughter and ex-husband felt the pain of not getting to see their Jayhawks, Jillian admitted to being just a little happy when she first heard the game was canceled.
"I'm not going to lie," she said. "That helped make it feel like we made the right decision."
As it turned out, that decision and the game's cancellation led to an even more memorable night. As they reconvened back at the hotel, they soon discovered it was the same place the Jayhawks were staying.
After attending a shoot-around at the CU Events Center earlier in the day, the KU players were still at the hotel when they found out the game had been canceled. So instead of heading over to suit up and go through their regular pregame routine, several of the KU players and coaches mingled in the lobby with fans and family members.
"After it was canceled, we actually got to meet some of the players, so that was a lot of fun," said Sydney, who traveled all the way from Rome, Italy, for the games.
Added Tony, who had his picture taken with KU senior Ochai Agbaji and his family: "Mitch Lightfoot came down and he was like hugging everybody and then he turned around to us and said, 'Hey, I'm Mitch.'"
It might not have been the 3-pointers, high-fives and highlight dunks the family expected when they planned the trip. But they found a way to enjoy it anyway and came away with a new set of memories to add to their ongoing quest to honor A.J. and cheer on their favorite teams.
"Can I say they were the most polite young men," Jillian said of the Jayhawks. "Of course they're Kansas people because they were so polite and accommodating. They were very gracious."
Shortly after Tuesday's cancellation, dozens of KU fans found themselves in the same position as Jillian's family, searching for something to do in place of cheering on the Jayhawks in enemy territory.
Many went out to eat or did some last-minute Christmas on Boulder's Pearl Street.
The Boden family, from Smith Center, went to eat at BJ's Restaurant & Brewhouse instead of sitting in the middle of a section of CU fans while cheering on the Jayhawks.
The Boden family received their tickets from friend, Mark Johnson, Colorado's play-by-play broadcaster. They, too, were honoring a late family member with the trip.
Kathi Boden said Tuesday would have been their middle daughter, Raegan's, 21st birthday, but she passed 20 months ago after a battle with brain cancer.
Kathi and her husband, John, made the trip to Boulder with their youngest daughter, Jaden. They said they try to get to at least one KU game a year and figured making a six-hour drive to Boulder in place of the four-hour drive to Lawrence would be a fun and new experience. Doing it on Raegan's birthday made it that much more memorable.
While the cancellation was certainly disappointing, the Bodens made the most of it and enjoyed a little extra time together around the holidays.
"It was already an emotional day," Kathi said. "And that made it a little more emotional. But we still had fun."