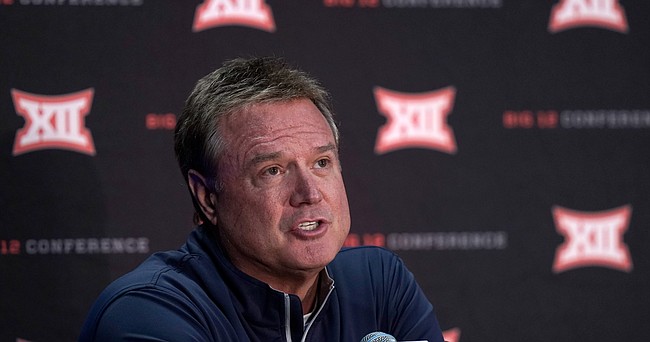 Boulder, Colo. — Given the current landscape of the COVID-19 pandemic, Kansas basketball coach Bill Self is in support of Wednesday's change by the Big 12 Conference to the rules regarding COVID-related forfeits.
Speaking with reporters at the KU team hotel in Boulder shortly after Tuesday's scheduled game at Colorado was canceled because of multiple positive COVID-19 tests in the CU program, Self said he did not see any way the conference could move forward with its existing policy of forcing a team that suffers from a COVID outbreak to forfeit a game.
"That will change," Self said Tuesday night. "I'm not going to say positively what the policies will be, but there's no way, in my opinion, that you can have that policy in conference play with the thought that this can happen to anybody anytime like this."
By Wednesday morning, a report from SI.com's Ross Dellenger indicated that the Big 12 was on the brink of "restoring policies that deem COVID-19-impacted games "no contests" instead of forfeits.
According to an email from Big 12 spokesman Bob Burda to The Associated Press, the Big 12's new policy allows for a game to be considered a "no contest" if a team has fewer than six scholarship players and one coach. The AP report also said the league will attempt to reschedule as many games as possible if that becomes necessary.
The AP reported Wednesday that the Atlantic Coast Conference also changed its policies, which now resemble what the Big 12 plans to do.
As the lingering pandemic has experienced a surge in recent weeks, with the rise of the Omicron variant, cancellations have run rampant throughout college and professional sports. Self said the current state of the virus, which he believes "is going to spread like wildfire" makes it far too difficult to enforce a policy that punishes a program for COVID-19 issues.
Prior to Wednesday, the Big 12's policy stated that any team that did not have enough student-athletes to compete due to COVID-19 or any reason "will forfeit and will be credited with a loss n the conference standings."
Furthermore, the policy stated that "the opponent will be credited with a win in the conference standings" and that "both teams will be deemed to have played the game for the purposes of conference standings only."
It continued: "A forfeit can be declared at any point before a completed contest, and, when possible, would occur prior to the visiting team commencing travel."
If both teams are unable to field enough players to compete, a "No Contest" will be declared and, if needed, an unbalanced tiebreaker format would be utilized to determine the conference champion, much the way it was during the 2020-21 season, when eventual national champion Baylor played fewer games than every other Big 12 team but was still awarded the regular season crown through the process of an unbalanced tiebreaker.
The Big 12's policy also stated that the Big 12 commissioner retained discretion to declare a No Contest if extraordinary circumstances warrant.
Self said Tuesday night that he fully expected COVID-19 to "screw up your conference season," but that he hoped the conferences and college basketball officials nationwide could find a way to better manage the pauses and disruptions without going into full shutdown mode the way they had to last season.
"I feel more comfortable this year," said Self, noting that the presence and effectiveness of the vaccines and booster shots contributed to his peace of mind. "We're going to have pauses. Let's just face it. The (college football) championship could get paused. But I'm hopeful that it doesn't take away our daily life patterns."
Self said he liked how people could still go out to a restaurant and be served by waiters and waitresses who were wearing masks, or how fans could come to Allen Fieldhouse and be greeted by KU employees wearing masks. But he also noted that the choice to go into any public place was still up to the individual person or fan and that their decisions to do so or not do so had to align with their own comfort.
"I don't know how you can do much more than that," he said. "I just don't see how you can shut everything down again."
Self also said he thought the Big 12's current testing protocols were "fair" and that they had nothing to do with Tuesday's cancellation, emphasizing instead that a CU player "got sick," and that the positive COVID-19 result overrode whatever testing procedures were or were not in place.
He also noted that KU players had been tested "many times throughout this this fall or early winter, but it could be for flu, it could be for strep (throat), it could be for fever, it could be for whatever. But we haven't had any type of COVID cases yet, knock on wood."
Although he was understanding and accepting of Tuesday's events, Self also said that he believed that symptoms were the key to all of it.
"If you don't have symptoms, there's no reason to continue to test," he said.
If playing on and keeping the games going is the chosen path, Self said he would expect the need for make-up games to be added into the schedule at some point.
"But that's going to be harder to do because you don't have a week off (at the end of the schedule like last season) to do so," Self said. "But I think they'll still just try to squeeze in as many games as possible."
Next up on KU's schedule — at least as of now — is a home game against Harvard at 7 p.m. on Dec. 29 at Allen Fieldhouse.