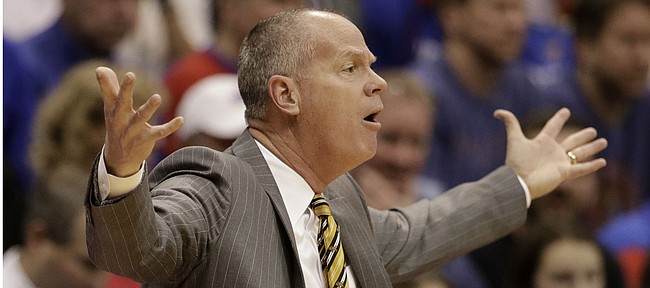 Boulder, Colo. — There has been a real push at Colorado University in recent years to create a true home-court advantage at the CU Events Center for men's basketball games.
That has been the case for all of Colorado's home games, but it has garnered extra emphasis whenever Kansas has come to town.

Dating back to the 1980s, and even earlier, KU fans who live in Colorado or out in Western Kansas, have made a habit out of filling CU's home venue with crimson and blue.
There were times in the past — long before current CU coach Tad Boyle took over — when there were more Kansas fans in attendance at these games than CU fans, and the difference between the two fan bases was often easy to hear.
Leading up to Tuesday's clash of former conference foes that never happened because of multiple positive COVID-19 tests in the CU program, Boyle discussed the importance of a good showing by both his players and CU's fan base in the showdown with No. 7 Kansas.
"I'm looking forward to having the CU Events Center full of Buff fans," Boyle said in the days leading up to Tuesday. "That's what I'm hoping for and counting on. More than that, it's having our team ready to play. … Hopefully this is a college basketball game that the state of Colorado can get excited about. I wish they got excited about every game. I'm watching Duke play Appalachian State the other night. The place was packed. The student section was packed. I wonder why (that isn't the case) here."
Boyle's Colorado teams historically have been good in CU's home gym, with the Buffs having a 159-29 home record in Boyle's 12+ seasons.
Boyle did not speak with reporters following Tuesday's cancellation, but it was clear heading into the game that he was looking forward to matching up with his alma mater and to the chance compete on a national stage against a top-10 opponent.
"It's a hell of an opportunity," Boyle said a few days before the game was to be played. "That's all you can ask for in life. I've coached against Kansas. I've played in that uniform (and) I know what it's like. (Kansas) is very well coached. Bill Self is in the Hall of Fame for a reason. He's a hell of a coach on both sides of the ball."
Remy vs. Colorado
The cancellation of Tuesday's game meant Kansas senior Remy Martin missed out on an opportunity to make up some ground on his all-time record against the Buffs.
In eight games against Colorado while at Arizona State, Martin shot 33-for-84 from the floor, including a 10-for-30 clip from 3-point range.
In those eight meetings, the former Sun Devil averaged 11.6 points and 4.9 assists in 29 minutes per game while ASU finished with just two wins and six losses in his four seasons in the Pac-12.
Updated NET rankings
While holding onto their spot at No. 7 in the Associated Press Top 25 earlier this week, the Kansas men's basketball team also stayed at No. 7 in the updated NET rankings.
Now a regular part of the college basketball rankings landscape, the NCAA Tournament Evaluation Tool rankings are an added way for the powers that be in college basketball to assess what teams belong where when the bracket comes out each March.
The NET takes into account a handful of factors — from strength of schedule to location of games and victories against highly rated teams — and, in some ways, has replaced the old RPI system.
KU's current NET ranking includes one Quad 1 victory (Michigan State), three Quad 2 victories, one Quad 3 victory and four Quad 4 victories. KU's only loss of the season thus far — to Dayton in late-November in Orlando — landed in the Quad 3 category.
The Jayhawks are the second-highest ranked Big 12 Conference program in the current NET rankings (through games played on Dec. 20), and they are behind No. 1 Arizona, second-ranked Baylor, No. 3 LSU, No. 4 Gonzaga, fifth-ranked Houston and No. 6 Purdue.