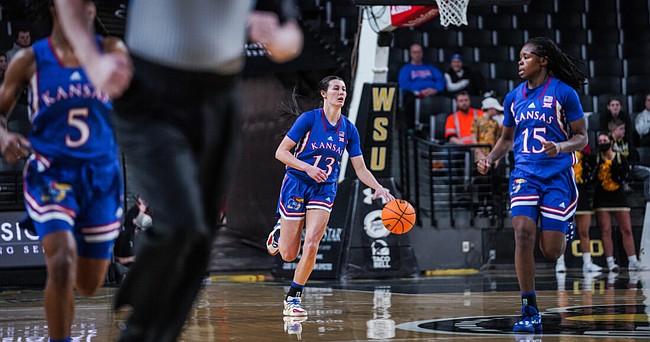 Four Jayhawks scored in double figures and the Kansas women recorded a season-high nine blocked shots during a 68-55 road win over Wichita State on Tuesday night at Charles Koch Arena.
The victory was the fifth in a row for the Jayhawks, who improved to 9-1 with one nonconference game remaining before the start of Big 12 play.
"I think it (was) a good road win in front of a great crowd tonight in Wichita," KU coach Brandon Schneider said after the game. "It was awesome to see so many Jayhawk supporters here tonight."
After Wichita State scored the first points of the game to take an early advantage, the Jayhawks responded with a 9-0 run to take control. The Shockers came back with six consecutive points, but KU held an 11-7 lead at the end of the first quarter.
KU then scored the first five points of the second quarter, building a lead of 16-7, but an 8-0 run by WSU made it a one-point game. KU's Holly Kersgieter buried a 3-pointer from the corner to put KU up 25-23 at the break.
KU got off to a quick start in the second half, building a 10-point lead (39-29) before withstanding a Shockers run to lead 48-40 after three quarters.
KU guard Julie Brosseau capped off the third quarter with a 3-pointer on the final possession, pushing the lead to eight. KU grabbed a double-digit lead early in the fourth quarter and cruised to victory from there.
"We played at their pace in the first half," Schneider said. "But we rebounded a little bit better and executed well enough in the second half to get the win. I look forward to these guys getting a little break and then getting back at it next week."
Kersgieter led the Jayhawks with 16 points, hitting 4-of-7 3-pointers while crossing the 800-point mark for her career. Zakiyah Franklin also achieved a scoring milestone, reaching 700 career points after scoring 13 points for the Jayhawks, matching a season-high with seven assists for the second straight game.
Chandler Prater and Aniya Thomas each added 10 points and Taiyanna Jackson scored eight points on 4-of-4 shooting while pulling down a game-high nine rebounds. Jackson also led the Jayhawks with four blocks.
The Jayhawks shot 48.1% (28-of-54) from the field while holding Wichita State to 30.6% (22-of-72).
Kansas will return to action next Tuesday to close out nonconference play by hosting Northwestern State. That matchup is set for a 7 p.m. tipoff at Allen Fieldhouse.