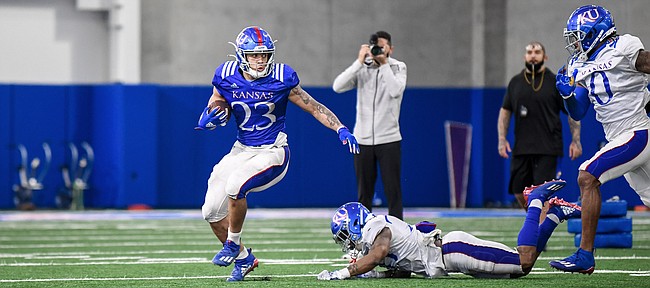 Kansas running back Amauri Pesek-Hickson has entered the transfer portal and will play college football somewhere else during the 2022 season.
Several recruiting outlets, including the Rivals.com site dedicated to tracking the transfer portal, reported the news Thursday morning.
A 6-foot, 230-pound redshirt freshman from nearby Blue Valley North High, Pesek-Hickson appeared in 15 games for the Jayhawks during the 2020 and 2021 seasons, recording 363 yards rushing on 100 attempts.
He dealt with injuries throughout the 2021 campaign, but still managed to play in 11 of KU's 12 games, including the season finale versus West Virginia, where he tied a career-high with 12 carries — for 60 yards — while filling in for injured starter Devin Neal, who missed the game.
Shortly after the news broke, Pesek-Hickson posted his own thoughts about his departure to social media.
"It's all love," he wrote, before adding: "Thank you to all of the coaches who have impacted me during my time at the University of Kansas. Without them, I would not be the human being I am today. I want to thank all my brothers as well. I know they will get to where they want to be because of the type of resilience and talent those men have. I will forever appreciate the relationships I created."
Pesek-Hickson becomes the latest on a list of Jayhawks who have elected to leave the program.
While some have left, first-year KU coach Lance Leipold also has hit the transfer portal to add bodies, including former Nebraska running back Sevion Morrison.
More movement, both into and out of the KU program, is expected in the weeks to come.
Also on Thursday, junior wide receiver Jamahl Horne and Miles Fallin, a former walk-on quarterback, also announced their decisions to enter the transfer portal.
KU players who exited via portal
Were on the 2021 roster in August
• Velton Gardner, jr. RB
• Steven Parker, RS-soph. DE
• Conrad Hawley, fr. QB
• Miles Kendrick, RS-sr. QB
• Garrett Jones, RS-fr. OL
• Amauri Pesek-Hickson, RS-fr. RB
• James Wright, fr. LB
• Nick Williams, RS-jr. OL
• Jamahl Horne, jr. WR
• Alonso Person, RS-fr. LB
• Jordan Brown, walk-on RS-fr. WR
• Miles Fallin, RS-sr. QB