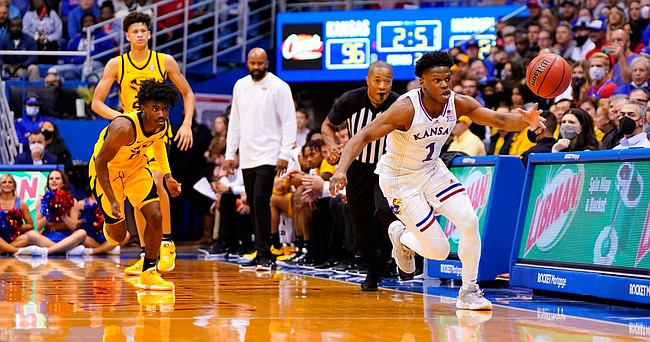 Seven games into his Kansas career, sophomore guard Joe Yesufu found himself in the enviable position that so many former Jayhawks probably wished they could have been in during their time in Lawrence.
With freshman guard Bobby Pettiford sidelined because of an abdominal injury, Kansas coach Bill Self openly campaigned for Yesufu to shoot the ball more and unlock his offensive potential.
"I told him (recently), 'Just guard the heck out of the ball and shoot it,'" Self said of his brief conversation with Yesufu ahead of KU's win over UTEP. "You can talk defense and I know I'm a big fan of it, and all this stuff, but Joe's a scorer. And I think sometimes he's focused on trying to play the way I want him to play and doesn't play the way he's best capable of playing."
According to his past, that's as a dynamic offensive threat.
During his three most recent full seasons of basketball prior to coming to Kansas, Yesufu's scoring averaged landed in the teens. He averaged 16 points per game as a senior at Bolingbrook High and 14 points per game the year before.
A knee injury cost him all but nine games of his freshman season at Drake, and he responded to that by averaging 13 points per game for the Bulldogs during the 2020-21 season. That run included a scoring clip of 23.2 points per game during the final nine games of the season. During that stretch, he hit at least four 3-pointers in a game five times and scored a career-high 36 points in a win over Evansville.
There's little doubt that this Kansas team has more scoring punch around it than the Drake squad Yesufu played on a year ago. But Self and Yesufu's KU teammates have constantly been on him about finding his confidence and tapping back into his scoring ways.
"Everybody," Yesufu said when asked which of his teammates had been in his ear about becoming a bigger part of the offense. "They've definitely seen that I've been hesitant about a lot of things. I'm trying to do what's best for the team, whatever it takes. So, I've been trying to defend (and) do everything outside of scoring. But they've been preaching to me that I just have to score. Do what I do best."
With Pettiford out of the lineup, it seemed as if Yesufu — along with super-senior Jalen Coleman-Lands — were first in line to get a longer look and more minutes on game nights.
But in the two games without Pettiford so far — both Kansas victories — Yesufu has played just over 18 combined minutes and shot the ball just five times.
He played 10 minutes in the UTEP win but was 0-of-2 from the floor, misfiring on his only 3-point attempt and turning it over twice. That outing limited him to 8 minutes in last weekend's win over Missouri, and he shot 1-of-3 from the field and added another turnover in mop-up duty.
While it's clear that Self would like to see more from Yesufu on the offensive end, he said he thinks his defensive potential is sky high.
"Marcus (Garrett) was our best defender," Self said for clarity's sake. "I haven't forgotten about him. "But, as far as applying pressure and still being able to keep them in front and everything, (the best we've had was Jeff Hawkins). I think Joe could be in that same category as Jeff. He's a very good on-the-ball defender. But off the ball, he's still learning stuff and picking stuff up."
Although he showcased his scoring potential toward the end of last season, Yesufu said he did not have a preference for which end of the floor he helps his team. He knows he needs to score more when he's out there. And he wants to. But he takes just as much pride in being a pesky defender.
"That's very meaningful," he said. "When I'm being a pest on the ball, people can easily get steals and deflections and all that. My whole thing is to make everybody else comfortable and bring energy to the floor."
The only way he can do that is by being out there, and unless he finds a way to add some scoring punch to his defensive pride, his minutes could remain limited moving forward.
So far this season, Yesufu is averaging 2.7 points on 38.5% shooting from the floor (3-of-12 from 3-point range) in just over 9 minutes per game.