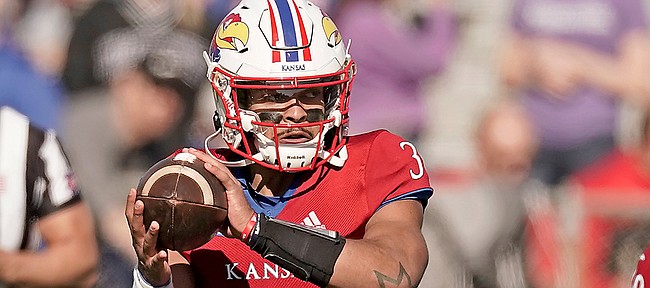 The Kansas football program's quarterback depth for 2022 took a hit when two reserves — Miles Kendrick and Conrad Hawley — decided to leave via the transfer portal.
KU head coach Lance Leipold confirmed Wednesday during his early signing period press conference that both QBs are moving on.
Leipold said their departure was one of the factors in KU recruiting and signing Class of 2022 quarterback Ethan Vasko, out of Chesapeake, Virginia.
A redshirt senior for the Jayhawks in 2021, Kendrick could have potentially used the NCAA's 2020 Covid waiver for an extra year of eligibility to remain at KU, if that was a scenario both he and the coaching staff wanted to pursue.
Hawley, who was a member of KU's 2021 recruiting class, arrived on campus early this past January. As a true freshman, he never appeared in a game, which will allow him to use a redshirt for this year and join another program with four years of eligibility remaining.
Kendrick spent much of this fall as the Jayhawks' backup QB. But just when an injury to Jason Bean during KU's Nov. 6 home game versus Kansas State opened the door for Kendrick to contribute, he suffered a lower leg injury that ended his season.
While appearing briefly in five games for KU in what would be his final season with the program, Kendrick went 12-for-18 as a passer, with two touchdowns and one interception, while throwing for 106 yards.
Throughout last offseason, leading up to head coach Lance Leipold's debut, Kendrick was often cited as one of the program's leaders and a key voice in the locker room.
Sophomore QB Jalon Daniels said after he became the starter in November that he wanted to follow Kendrick's example as a leader.
"Seeing Miles Kendrick, being able to go out on the field, rally up the troops, talk to guys, being able to get get their ego up," Daniels said of how he wanted to resemble the veteran.
A 5-foot-10, 203-pound QB from Morgan Hill, Calif., Kendrick started two games for KU during his four years with the Jayhawks. Both of the starts came in 2020, as KU dealt with injury issues. In his career, he appeared in 16 games.
Recruited to KU as a junior college prospect at College of San Mateo (California) in the Class of 2018, he leaves KU as a graduate transfer having gone 96-for-157 (61.1%) through the air, with 853 passing yards, nine TDs and six interceptions. Kendrick threw for a career-best 168 passing yards in a home loss to TCU late in the 2020 season.
A 6-5, 220-pound QB from Raymore, Missouri, Hawley was recruited by former KU offensive coordinator and QBs coach Brent Dearmon. He was a three-star prospect according to Rivals, before signing with KU.
KU players who exited via portal
Were on the 2021 roster in August
• Velton Gardner, jr. RB
• Steven Parker, RS-soph. DE
• Conrad Hawley, fr. QB
• Miles Kendrick, RS-sr. QB
• Garrett Jones, RS-fr. OL
• James Wright, fr. LB
• Jordan Brown, walk-on RS-fr. WR