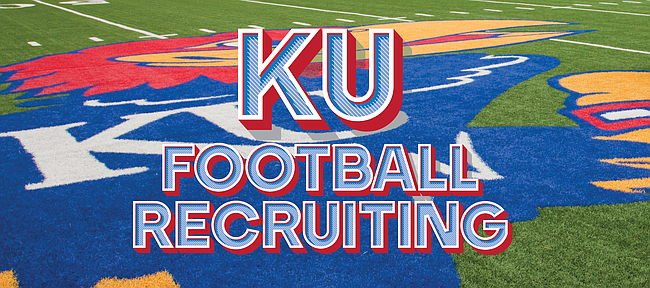 Members of the Kansas football team's 2022 recruiting class began making their commitments official on Wednesday morning, as the early signing period kicked off nationwide.
The first prospect to sign his letter of intent and formally come on board was the newest high school talent to join the class. Quarterback Ethan Vasko, who just made his commitment to KU two days earlier, was the first signing announced.
The state championship-winning QB from Chesapeake, Virginia, is listed at 6-foot-4 and 200 pounds. Rivals grades him as a two-star prospect, while 247 Sports has him as a three-star talent.
A few hours into the day, KU already had six recruits signed to the class: Vasko, offensive lineman James Livingston, safety Kaleb Purdy, O-lineman Joey Baker, junior college tight end Tevita Noa and safety Mason Ellis.
Similar to Vasko, Livingston has a three-star rating from 247 Sports and a 2-star grade from Rivals. A 6-7, 282-pound lineman from Michigan, Livingston was named first-team all-state by the Associated Press following his senior season at Dexter High.
Purdy is a 5-10, 170-pound defensive back from St. Peters, Missouri, who is a consensus three-star prospect. He was a four-year starter at De Smet Jesuit High, in the St. Louis metro area.
A three-star O-lineman from Southlake, Texas, Baker is listed at 6-4 and 260 pounds. During his senior year at Southlake Carroll, the team finished 14-1 and reached the 6A D1 state semifinals.
A 6-4, 250-pound tight end, Noa already has played two years at the junior college level, at Snow College, in Utah. Rated a two-star prospect by Rivals and a three-star juco talent by 247 Sports, Noa will be a junior for the Jayhawks in 2022.
The only in-state recruit in the 2022 class at the moment, Mulvane defensive back Ellis is listed at 6-2 and 188 pounds. Named first-team all-state by Sports in Kansas this year, Ellis is a two-star prospect according to Rivals, while 247 Sports has him as a three-star. Ellis, who previously had been committed to North Dakota State, is expected to grayshirt and join the roster in the spring of 2023.
KU's 2022 recruiting class won't be complete until February, and many of the spots in the class are expected to go to transfers out of the portal. KU entered the first day of the early signing period with five commitments from FBS transfers who will be eligible to play next year.
KU football Class of 2022 commitments
(Rivals rankings)
• Anthony Davis — 3-star Texas CB
• Kaleb Purdy — 3-star Missouri S
• Joey Baker — 3-star Texas OT
• James Livingston — 2-star Michigan OT
• Tevita Noa — 2-star Utah juco TE
• Mason Ellis — 2-star Mulvane DB
• Ethan Vasko — 2-star Virginia QB
KU football's incoming transfer portal commitments
• Kalon Gervin, RS-jr. CB (Michigan State)
• Sevion Morrison, fr. RB (Nebraska)
• Craig Young, soph. LB/S (Ohio State)
• Nolan Gorczyca, fr. OL (Buffalo)
• Eriq Gilyard, sr. LB (Central Florida)