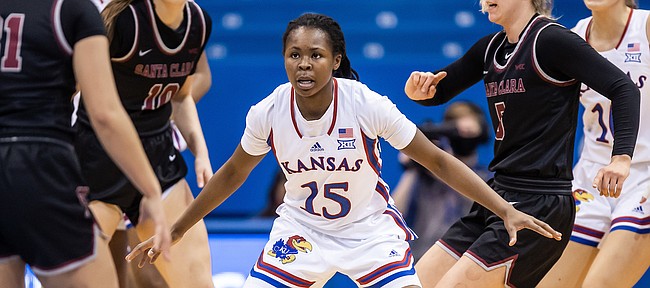 With its best quarter coming just in time, in the fourth, the Kansas women's basketball team turned a tight game into an 80-65 victory over Santa Clara on Sunday afternoon at Allen Fieldhouse.
The Jayhawks outscored the Broncos, 25-11, in the final quarter, as the home team shot 8-for-12 in the last 10 minutes.
Playing without junior guard Holly Kersgieter, a preseason All-Big 12 selection, the Jayhawks (8-1) didn't let their offense fall off, and found balanced production in the nonconference home victory, which extended the team's win streak to four.
Four of KU's five starters scored in double figures: Ioanna Chatzileonti (15 points), Chandler Prater (14 points, five rebounds), Taiyanna Jackson (13 points, seven rebounds, three blocks, two steals) and Aniya Thomas (11 points, five rebounds, two steals).
Prater, who replaced the injured Kersgieter in the starting lineup, scored a season-high and tied her career-best with 14 points.
KU coach Brandon Schneider said playing without Kersgieter, who is dealing with a nagging leg injury, hurt KU's offensive rhythm and chemistry.
"I don't have to watch film to know we need her and we'd love to have her out there," Schneider said.
KU entered the fourth quarter with a 55-54 lead and the outcome versus Santa Clara (5-2) anything but a certainty.
But KU came out assertively in the fourth, getting fastbreak layups from Prater and Jackson in the opening minute.
Later on, Prater delivered a spin move, and converted both the shot and the free throw that followed for an and-one to extend KU's lead to 67-58 with 6:36 to play.
The Jayhawks then survived a nearly four-minute long scoring drought before Chatzileonti scored, drew a foul and hit her free throw to pad the KU margin and make it 70-63 with 2:46 left on the clock.
It wouldn't take nearly as long for KU to find its next basket, and on the ensuing trip down the floor Zakiyah Franklin (five points, seven assists) hit a 3-pointer to give the Jayhawks their first double-digit lead of the afternoon with 2:15 to go.
Santa Clara shot 5-for-16 in the fourth quarter, and went 1-for-9 on 3-pointers as KU took control for the win.
Schneider said he wished the Jayhawks would have played that type of defense throughout the game.
"But I thought we did it at really key points," he said. "Whenever they — I think they cut it to six — had an opportunity to to get themselves back in the game, I thought we reasserted ourselves, defensively and on the glass."
Santa Clara shot 38% from the floor, and only connected on 11 of its 39 3-pointers (28%).
Despite a hot KU start and a 10-2 lead five-plus minutes into the game, the Broncos climbed back into it and kept the game competitive until the final minutes of the fourth.
KU trailed, 35-32, at halftime, and Santa Clara led the game as late as the final two minutes of the third quarter.
With finals week ahead at KU, the Jayhawks are off until Dec. 21, when they play at Wichita State (8-2).