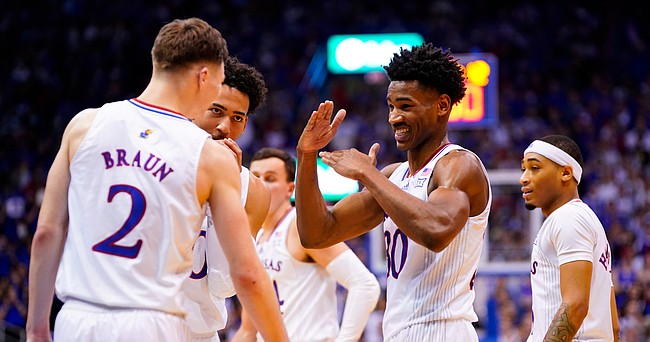 Perhaps lost in the euphoria that accompanied last Saturday's near-40-point beatdown of rival Missouri was Kansas coach Bill Self's first significant step toward paring down his roster.
Sure, the eighth-ranked Jayhawks still played 11 scholarship players and two walk-ons in the 102-65 Border War blowout. But Self used just eight players in the first half, relying mostly on his starters to build a 22-point halftime lead.
Senior forward Mitch Lightfoot matched starting big man David McCormack in playing 10 first-half minutes. And the two Jalens — Jalen Wilson (8) and Jalen Coleman-Lands (3) — combined to play 11 minutes off the bench.
"Playing those eight guys in the first half I thought was best for our team because nobody was tired," Self said.
Chalk that up to adrenaline and enjoyment. In the first game against Missouri since 2012, the KU starters made it clear that they were fired up and having fun, particularly junior guard Christian Braun and seniors Remy Martin and Ochai Agbaji. That trio played 53 of a possible 60 first-half minutes.
Because of the numbers on the scoreboard, KU's starting five was barely needed in the second half. Missouri did not score its 50th point until the 5:02 mark of the second half. Kansas had 49 at halftime.
Despite the lopsided margin, Agbaji, Braun and Martin still played half of Saturday's second half.
"I thought tonight was more how I'll coach in league (games) than the first eight games were," Self said after the victory when asked about the rotation. "I've been trying to get guys in the game, and that's with the starters playing well. So tonight I just decided — we decided — if we're playing well, don't play guys just to try to get them in the game. Play guys that's best for your team moving forward."
The move to limit the minutes of KU's bench players — particularly freshmen KJ Adams and Zach Clemence, along with sophomore transfer Joe Yesufu — was a long time coming. Self has openly talked for the past several weeks about how he would try to juggle the minutes with this deep and talented roster.
The plan all along was to use the early portion of the season to see which newcomers and reserves would create separation. Freshman guard Bobby Pettiford was one of the few who did, but a recent abdominal injury took him out of the lineup for at least the next couple of weeks.
Photo Gallery
Kansas basketball v. Missouri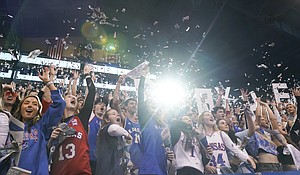 View a gallery of images from Saturday's Border War between the Kansas Jayhawks and Missouri Tigers at Allen Fieldhouse.
When he's back to 100% healthy, Pettiford's return will further crowd the rotation. But the tough and talented freshman guard from Durham, N.C., may already have shown enough to have a spot waiting for him when he returns.
At this point, it seems as if Self is content to ride with his starting five while using Lightfoot as the first big man off the bench and Wilson as the first wing reserve. Certain matchups or circumstances — bigger lineups, smaller lineups, etc. — could encourage Self to tweak that plan. But as long as that first seven, along with Coleman-Lands, continues to produce, it's unlikely that there will be much change at least in the next few weeks.
KU's bench still provides the Jayhawks (8-1) with good depth and great versatility. But with the conference opener now just a few weeks away, Self and his coaching staff are starting to shift their focus to the next phase of this team's development.
That transition almost always comes with a tightening of the rotation, and Saturday's win over Missouri was the first indicator that Self is ready to shift gears.
"They'll still (get) a chance to play," he said of his deeper reserves. "But (how it looked Saturday is) probably more how it's going to look moving forward."
Self's next chance to move closer toward settling in on his rotation comes at 7 p.m. Saturday, when the Jayhawks play host to Stephen F. Austin at Allen Fieldhouse.